Folding toilet frames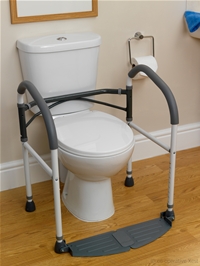 A toilet surround frame is designed to fit around a toilet providing a hand-hold on either side. The height of the hand-hold can usually be adjusted to provide the hand-holds at the most appropriate height for you (usually around elbow height) (Disabled Living Foundation, 2009). The frames in this group can be folded flat when not in use.
Most of these frames can be used with raised toilet seats if required, although if you need both you may wish to view combined toilet seats and rails.