Mobile shower cradles and trolleys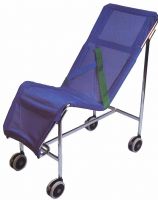 Mobile shower trolleys in which a person can be semi-reclined or reclined in, whilst being showered by a carer(s). Some of the items are called shower cradles.
If there is sufficient space and suitable flooring the person could be wheeled from another area of the house. Many would be used in combination with an overhead hoist or mobile hoist.