Outerwear for wheelchair and scooter users - leg covers and sitting bags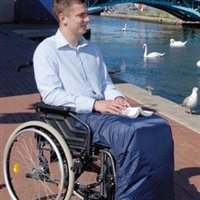 Included in this section are leg covers designed for wheelchair and scooter users. This includes sitting bags, aprons, blankets and leg muffs. The range includes fabrics that are waterproof, and fleece items that can provide extra warmth.
Zipped sitting bags are usually quilted or fleece lined, are often shower proof and can be warmer and easier to use than a rug wrapped around your legs. Rugs may come loose and obstruct the wheels of your scooter or wheelchair (Disabled Living Foundation, 2008).