Wall-mounted rails that fit across bath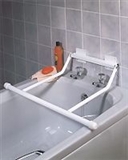 These wall-mounted rails fit behind the taps of the bath and rest on the bath rims. They can be folded up against the wall when not in use.
They can be helpful to give confidence to people getting in and out of the bath.