Bedside safety rails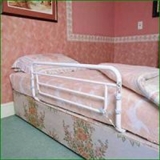 zzListed here are domestic safety rails are designed to help prevent people rolling out of bed accidentally. They usually have bars which run across and between the bed and the mattress for greater security.
Also included in this section are alternatives to conventional rigid rails, such as inflatable and netting sides.