'V' pillows & armchair shaped supports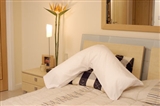 'V' shaped pillows are used inverted on a bed to support your back, shoulders, arms and neck.
This section also includes armchair shaped supports which provide comfort and support when sitting up in bed. They are usually made of covered foam and have a backrest and armrests.