Slip resistant products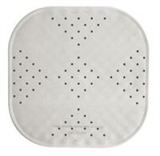 Self-adhesive strips or circles for use on the bottom of baths or shower trays are available and may help to reduce the risk of slipping in the bath or shower.
There are a wide range of bathmats readily available on the high street. These mats are secured with sucker feet to the bottom of the bath, shower tray or cubicle and available in a range of sizes. In addition there are spray-on slip-resistant materials available which may prevent slipping in a wet bath.