Shower, over toilet & commode chairs for users over 190kg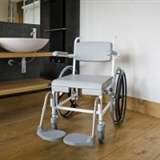 These multipurpose toilet chairs have three uses, they can be used:
over a toilet
as a commode
as a shower chair
There are a range of backrest and footrest styles. Models are available with height adjustment, drop down armrests to facilitate side transfers, and/or large rear wheels for the user to self propel. Some models have a tilt-in-space facility and some are motorised. All the models listed on this page have a user capacity of 190kg or above.