Telecare enabled pill dispensers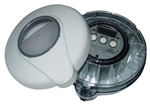 These units can prompt you when to take your medication and dispense the tablets you are due to take. If you do not take the tablets then your help centre is automatically notified by your telecare system and can contact a carer, friend or relative who can remind or assist you. This can be helpful if you have to remember to take tablets at several different times each day or find you cannot remember whether or not you have taken your medication.
As the unit only dispenses the tablets at the required time, the risk of taking a repeat dose is reduced.