Thermostatic controls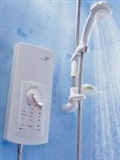 Healthy adult skin requires only 30 seconds of exposure to water at 55 degrees centigrade before third-degree burning occurs. At 70 degrees centigrade burning occurs in less than a second. The skin of children and older people is even more sensitive to extreme temperatures. A maximum hot water temperature of 40 degrees is recommended for showers, 43 degrees for a bath and 48 degrees for the kitchen sink
Products called thermostatic mixing valves (TMVs) are available to accurately control the temperature of water for showering, bathing and hand-washing. These valves also maintain the pre-set temperatures even if the water pressure varies when other appliances are used. Installed and maintained correctly, they can significantly reduce the risk of scalding in the home. Some types of thermostatic mixing valves can be installed with existing conventional taps, others can replace existing taps.
If you would like further advice regarding using your shower and related products then you could try the using the shower section of AskSARA. AskSARA is the Disabled Living Foundation (DLF)'s free online self assessment tool. AskSARA will ask you questions about yourself and your environment (in this instance your shower) and then offer relevant advice, product suggestions and supplier details.



View AskSARA's showering section.
All advice is either supported by references (cited in the text) or is based upon peer reviewed professional opinion. Our advice is impartial and not influenced by sponsors or product suppliers listed on the site.
Conflict of interest statement