Preventing falls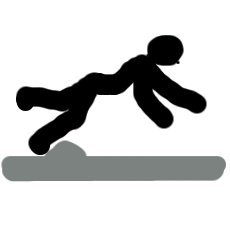 There are several simple tips which can help prevent falls occuring. Many falls occur due to accidents with items within your home environment, for example, tripping over a mat. The following steps can help prevent these accidents:
1) Remove loose rugs or mats (especially on a slippery floor)
2) Do not leave electric or telephone leads trailing across the floor, have them fixed to a wall.
3) Use non slip mats with suckers to prevent slips on wet surfaces (especially in your bathroom).
4) Having Grab rails fitted may reduce the risk of falls.
5) Keep as active as possible. Even standing from a chair and walking around the room requires muscular power and balance. Inactivity results in weakness of muscles, loss of joint position sense and loss of balance. A wide variety of activities including dancing and Tai Chi can help you stay active and provide social contact.
It may be appropriate for you to request an assessment with an occupational therapist, or another health care professional, who can help you consider the above points, and perhaps suggest additional techniques or equipment. You can contact your local social services and ask about an occupational therapy assessment.
If you wish to request a private appointment with an occupational therapist then you can obtain details of local state registered private occupational therapists from the 'Occupational Therapists in Independent Practice' (OTIP) website. www.rcotss-ip.org.uk or phone their enquiry Line: 0800 389 4873.
For more information on preventing falls visit Age UK's webpage: Ways to make tasks easier around the home.
All advice is either supported by references (cited in the text) or is based upon peer reviewed professional opinion. Our advice is impartial and not influenced by sponsors or product suppliers listed on the site.
Conflict of interest statement