View all bathing help & advice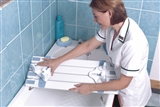 These pages provide advice and suggestions relating to the equipment available to help with bathing, showering and personal care in a domestic setting. Click on the links to read the relevant advice. Read general advice on how to use this site.
Baths
Equipment for the bath
Showers
Shower seating
Bathroom fixtures
Grab rails
Bathroom safety
Assessment and funding
Sample case studies
Useful links
If you would like similar advice regarding safety in your bath and shower related products then you could try the bathroom and shower section of activities of AskSARA. AskSARA is the Disabled Living Foundation (DLF)'s free online self assessment tool. AskSARA will ask you questions about yourself and your environment (in this instance your bathroom and toilet door or bathroom and shower) and then offer relevant advice, product suggestions and supplier details.
All advice is either supported by references (cited in the text) or is based upon peer reviewed professional opinion. Our advice is impartial and not influenced by sponsors or product suppliers listed on the site.
Conflict of interest statement