Raising a chair's height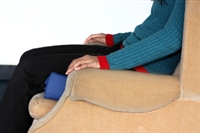 If you are finding it hard to get out of a low chair, you may decide to raise a current dining or lounge chair by using chair raisers. This can be an alternative to purchasing a new chair or could be a temporary solution. Many individuals will benefit from using a higher chair but whether raising your chair will help you will depend on the nature of your disability. A chair that is too high can create its own problems. If a seat is too deep or the back angle is too reclined this can also affect your ability to get out of a chair. An extended armrest with a non-padded rounded area can also help.
First of all, it is important to know the amount that a chair needs to be raised. This can be determined by measuring for the new seat height and then subtracting the current seat height. An assessment with an Occupational therapist may be appropriate as they can calculate the height you require and the type of chair raisers your chair will fit. They may also consider equipment to help you with standing from your bed and toilet if appriopriate.
Secondly, it is better to use chair or leg raisers rather than using a standard type cushion. A cushion has the effect of reducing the distance between the seat height and the armrests, so that they offer less assistance when standing from the chair.
Chair raisers increase the height of the chair's legs or base (if the chair has no legs). The overall increased height will depend on the type of legs the chair has and the product used. Many chair raisers are adjustable within a range, usually within 50 to 135mm. These are often supplied by social service departments or the NHS following a hospital discharge.
Chair raisers are often bought in sets of four as individual blocks and are placed under or clamped onto the legs of a chair. Interconnected chair raisers are also available and tend to be more stable. If the chair has castors, these may fit within the chair raiser, alternatively some chair raisers require the castor to be removed first and then the chair raiser fits into the castor's socket.
Chairs that are placed on chair raisers can be quite difficult to move - you will probably require assistance with fitting chair raisers or if moving the chair for cleaning. After moving the chair you should always check that the chair is still correctly positioned on the chair raisers before sitting down.
Chair raisers can be used on dining chairs or sofas depending on the type and shape of chair leg and chair raiser used. With a larger sofa additional interconnected parts of a raiser may be needed, e.g. if it has six or eight castors.
Chair raisers have a maximum weight limit and are available in different materials some of which are more discrete than others.
---
Further information
You may be eligible for this, or similar equipment from your local authority following an assessment. If you are eligible the equipment will be provided on a long-term loan basis. Alternatively, you may be eligible for a direct payment from your local authority to purchase something suitable. View more information on equipment provision via your local authority and the direct payments scheme.
View DLF's impartial product list of chair raisers.
If you would like similar advice regarding issues with sitting to standing and questions relating to chairs then you could try the sitting and standing or chairs sections of AskSARA. AskSARA is the Disabled Living Foundation (DLF)'s free online self assessment tool. AskSARA will ask you questions about yourself and your environment and then offer relevant advice, product suggestions and supplier details.
- AskSARA's Chair section
- AskSARA's Sitting and standing section

Advice last checked: 30 January 2018 Next check due: 30 January 2021
All advice is either supported by references (cited in the text) or is based upon peer reviewed professional opinion. Our advice is impartial and not influenced by sponsors or product suppliers listed on the site.
Conflict of interest statement