Kitchen Timers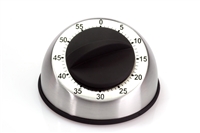 There are 2 main types of kitchen timers:
Mechanical timers
These are for a 60 minute countdown and are designed primarily for kitchen use.
Most are self-standing but a few can be wall-hung.
They usually ring for a few seconds and can be heard only within a limited range (depending on your hearing).
If you want a continuous ring (until you switch off) or variable volume control then you would need to choose an electronic timer.
If you want to hold the timer in one hand, and operate the dial with the other hand, ensure it is comfortable to hold and not too large (Dawes, 2009).
If you have low to moderate sight loss, you may find larger digits with colour contrast helpful (Scheiman, Scheiman and Whitaker, 2007) (pictured below).
Electronic timers
These timers usually give hour, minute and second countdowns for 0-24 hours based on the 24 hour clock.
They have a continuous audible, flashing or vibrating alert and some have variable volume control.
They are often combined with clocks and may have a stop watch facility.
Its worth looking at the instructions to see how easy they are to operate and read other users' Internet reviews.
Some can be fitted on the fridge with a magnetic fitting, while others have a clip attachment.
You may also be interested in viewing our section on wall clocks with clear displays.
Advice last checked: 09 May 2017 Next check due: 09 May 2020
All advice is either supported by references (cited in the text) or is based upon peer reviewed professional opinion. Our advice is impartial and not influenced by sponsors or product suppliers listed on the site.
Conflict of interest statement