Saucepans and accessories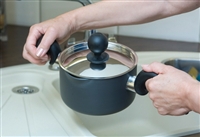 Cooking with a saucepan can be difficult for a number of reasons. You may find the task tiring, the saucepan heavy, the handle painful to grip or experience difficulty remembering to turn the hob off (Shiffman, 1992), (Government of South Australia, 2008). A variety of saucepans and saucepan accessories may help reduce these difficulties as can changing your technique when using the saucepan.
Saucepans or casserole dishes with a handle on either side allow you to evenly distribute the weight between both hands (Fasoli, 2008).
Saucepans with angled handles allow you to hold the pan with your hands in a more natural position and use the strength of both your wrist and your arm.
Heavier saucepans may be more stable and thus easier for people with a tremor to use.
Some saucepans have a straining system incorporated within the design which avoids the need to use a separate colander.
Using a cooking basket can help reduce the effort required to drain a saucepan as it splits the combined weight of the saucepan, water and food. You fill the saucepan with water, put your food into the wire basket and then place the basket and food into the saucepan. When the food is cooked the basket can be lifted out with the food and once cold, the water can be drained. Thus you do not need to lift the combined weight of the saucepan, water and food at the same time.
These fix to the cooker or hob, stabilising the pan. This allows you to stir the food in the saucepan with one hand. Some models are folding. The cooker top surface needs to be grease free to allow the suction feet to stay in place (McHugh Pendleton and Schultz-Krohn, 2006), (Able Data, 2007).
If possible, sliding the pan from the work surface to the hob reduces the amount of energy required. But - be careful it doesn't cause scratching (Mackey and Nancarrow, 2006).
Using a steamer, rice cooker, crock-pot (slow cooker) or microwave reduces the need to lift heavy saucepans and may reduce the amount of washing up required.
If you are regularly forgetting to turn off your saucepan then you may wish to use a kitchen timer or invest in an induction hob with a built in timer. For more information read our advice on kitchen timers or induction hobs.
There are hints and tips that may be helpful if you struggle to lift a heavy saucepan, or one that has boiling water in, to avoid you burning or injuring yourself (ADL Smartcare Ltd). If you are experiencing difficulty using a saucepan and the above products and ideas do not seem sufficient you may wish to consider contacting your local social services and asking about the possibility of an occupational therapy assessment.
Advice last checked: 09 May 2017 Next check due: 09 May 2020
All advice is either supported by references (cited in the text) or is based upon peer reviewed professional opinion. Our advice is impartial and not influenced by sponsors or product suppliers listed on the site.
Conflict of interest statement
References
Consumer and Competition Policy Directorate, Department of Trade and Industry 2002 Specific anthrometric strength data for people with dexterity disability
View reference Last visited: 10/12/2013

Evidence type: 5

Government of South Australia 2008 Energy conservation
View reference Last visited: 10/12/2013

Evidence type: 5