Sitting and standing from the toilet
If you are experiencing difficulty sitting and standing from the toilet there are several possible techniques and items of equipment that may help.
Techniques to help when sitting or standing from the toilet.
Standing
Using the correct method of rising from a toilet may help you to stand up. The following sequence of actions may help you to stand:
1) If you have a toilet frame around your toilet or grab rails on the wall beside the toilet, place your hands firmly on the armrests/rails;
2) Lean forwards away from the back of the toilet;
3) Move your bottom near to the edge of the toilet seat, either by shuffling forward by transferring weight from one buttock to the other, (as if you are doing a seated version of the Can-Can) or by taking the weight through your arms and lifting your bottom;
4) Make sure your feet are shoulder width apart, with your feet in line beneath your knees (not tucked back under the toilet bowl or out in front of your knees);
5) Bring your head and shoulders in line above your knees;
6) Stand, while pushing with both arms if you have armrests/rails;
Never use a walking frame to hold onto whilst standing from a toilet, as it is not designed for this purpose and could easily tip over.
Sitting
The following sequence of actions may help you to sit down safely:
1) position yourself so that you can feel the front of the toilet bowl with the back of your legs. If you have grab rails beside the toilet hold onto them.
2) distribute your weight evenly over both feet.
3) Slightly bend at the hips and knees and, if you have a toilet frame, reach back for both armrests. Keep feeling for the toilet seat with your legs as you sit down gently
4) If you do need to move your bottom back, use the technique that is best for you (shuffling or lifting back), until you are comfortable.
Equipment - rails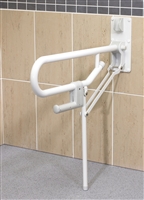 There are a range of toilet rails that can be installed/placed around a toilet including: toilet frames, wall mounted drop down rails and grab rails. For advice on where to place toilet rails and the types of rail available please read our Toilet rails advice page.
Equipment - to raise the height of the toilet seat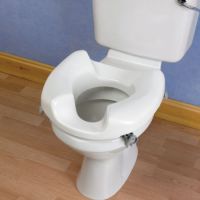 There is a range of equipment that can be used to raise the height of a toilet including: raised toilet seats, toilet frames with seats and toilet plinths. For advice on toilet height and equipment for raising the height of a toilet seat please read our
Toilet height advice page
.
Limitations of generic advice
As the options above illustrate there are many different types of equipment available to assist in transferring on and off the toilet. It is important that you select the equipment that is safe and appropriate for you. We therefore recommend you arrange an assessment with an appropriate health care professional to discuss any difficulty standing/sitting on the toilet.
It may be important that you have an individual assessment as there are many factors that may affect what is appropriate for you. For example, some equipment may not fit if there are pipes running along the wall at the back of the toilet. Raised toilet seats vary in their maximum user weights, and grab rails may not be appropriate if the wall is too far from the toilet. Thus you may wish to discuss your difficulties with a health care professional before considering purchase of this kind of equipment. You can contact your local social services and ask about an occupational therapy assessment. www.gov.uk/
If you wish to request a private appointment with an occupational therapist then you can obtain details of local state registered private occupational therapists from the 'College of Occupational Therapists' website www.cotss-ip.org.uk or phone their enquiry Line: 0207 9890681.
Further information
You could visit the toilet section of the AskSARA website which will guide you through questions about using your toilet and then offer relevant advice, toilet related product suggestions and supplier details.
Advice last checked: 29 January 2018 Next check due: 29 January 2021
All advice is either supported by references (cited in the text) or is based upon peer reviewed professional opinion. Our advice is impartial and not influenced by sponsors or product suppliers listed on the site.
Conflict of interest statement