Choosing cutlery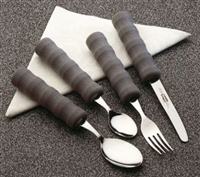 Holding and using cutlery effectively is essential to independence with eating. This can be a difficult task for anyone with reduced grip, pain, tremor or weakness in the hands and arms, or use of only one arm. Cutlery can be adapted in a number of ways to make it easier to use. There are also a range of specifically designed products available if existing cutlery cannot be appropriately adapted (DLF, 1996).
Read our advice on choosing eating and drinking equipment for some practical issues you should consider before choosing equipment.
Adapting cutlery
It may be possible to adapt existing cutlery to overcome difficulties when using cutlery. Simply increasing the width of the handle can make it easier to grip cutlery, as fingers don't need to be wrapped as tightly around the handle. This may help if you have reduced grip, pain or stiffness in your hands (Disability SA, 2008). Foam tubing is available in various widths and can be cut to size and slipped over the handle of most standard cutlery to widen the grip. There are also a variety of handles available that may be attached to standard cutlery to provide a wider or contoured grip (LifeTec Queensland, 2009).
For people with very limited or no ability to grasp, a hand strap may be a suitable option. The strap usually has a pocket where the cutlery is inserted to hold it into place (LifeTec Queensland, 2009).
Cutlery with larger or contoured handles
If adapting existing cutlery is not suitable, there is a range of cutlery with larger or contoured handles available. Some cutlery with larger handles is also lightweight, which may assist people with weakness in the arms or shoulders. Alternatively, the cutlery may be weighted, which may assist those with a tremor. The additional weight can help to suppress unwanted movements.
Angled cutlery
If you have restricted movement in your arms, wrists or shoulders, angled cutlery may be easier to use. This type of cutlery has the head of the utensil positioned at an angle to the handle, which reduces the amount of movement required to bring the utensil up to your mouth. Some are mouldable, allowing an exact angle to be achieved, other varieties are set at a pre fixed angle or may be modular.
Swivel cutlery has a pivoting joint between the head and the handle, helping to keep the head horizontal regardless of the position of the handle. This can be useful for people with tremor or uncontrolled movment, who find it difficult to hold the cutlery horizontally.
Also available are a range of knives with angled handles or rocker blades. Knives with the blade positioned at right-angles to the handle allow a stronger grip to be maintained during cutting as the wrist remains in a neutral position. Rocker blades cut food using a rocking action, which allows cutting to be done with one hand (LifeTec Queensland, 2009).
Combination cutlery
The use of combination cutlery allows a person to perform two or more actions with one utensil, meaning that tasks can be performed with one hand. Combinations can include knife/fork, knife/spoon, fork/spoon and knife/fork/spoon. Some of these items also have a larger handle to help with grip. Care should be taken when using an item with a knife edge to bring food to the mouth (DLF, 1996). This type of cutlery may not be suitable for people with uncontrolled movements or tremor as there would be a risk of injury.
View our advice on one handed eating for more information on products or techniques that may assist.
Non-metallic or plastic coated cutlery
If you have limited control of head or arm movements, or a strong bite reflex, non-metallic or plastic coated cutlery can help to protect your lips, teeth and mouth from damage.
People with a strong bite reflex who are likely to bite down on cutlery with force may be safer to use non-metallic cutlery, rather than metallic cutlery with a plastic coating. Some manufacturers have designed 'unbreakable' cutlery made from plastic or nylon for this purpose.
Forks and spoons shaped to assist eating
There is cutlery available that is specially shaped to assist with eating. There are spoons that have shallow bowls, which may make it easier to take food from the spoon, however this may make it more difficult to keep food on the spoon. Most of this type of cutlery is also made from non-metallic materials, which helps to protect the mouth and teeth in case of uncontrolled movement.
---
To view the range of cutlery and accessories listed on Living made easy, click on the product images below:
Advice last checked: 09 May 2017 Next check due: 09 May 2020
All advice is either supported by references (cited in the text) or is based upon peer reviewed professional opinion. Our advice is impartial and not influenced by sponsors or product suppliers listed on the site.
Conflict of interest statement
References
Disability SA 2008 Arthritis Management
View reference Last visited: 16/12/2013

Evidence type: 2

LifeTec Queensland 2009 Eating and Drinking Equipment Factsheet
View reference Last visited: 16/12/2013

Evidence type: 2