Setting up the dining environment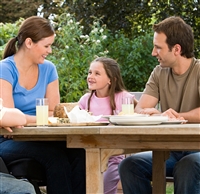 Eating a balanced diet is essential to our health and wellbeing, and sitting down to a meal provides an opportunity to socialise with friends and family. If someone has difficulty with eating and drinking tasks, it is important that the environment is set up appropriately in order to encourage independence.
Seating
Ensure the dining chair is comfortable and supportive, and at the correct height. This will vary from person to person, however as a general guide feet should be positioned flat on the floor or a footrest, with ankles, knees and hips at approximate right angles (LifeTec Queensland, 2009).
Chairs with skids may be easier to push away from or towards the table. This type of chair may not be suitable if you are unsteady when sitting or standing.
Specialised seating can offer more postural support if this is necessary. An assessment with an occupational therapist or physiotherapist can help determine the correct seating. Assessment by a speech and language therapist is strongly recommended for people who have difficulties with swallowing due to incorrect positioning.
For further information view our advice on chairs and seating or view our range of chairs.
Table position and design
Ensure the table is secure and not easily moved.
The table should be at a height that allows you to rest your forearms on the table comfortably, with shoulders relaxed.
Sit as close as possible to the table within comfortable reach of food and drink items. Tables with a cut out section can allow you to sit closer and reach items more comfortably (LifeTec Queensland, 2009).
If sitting and eating at a table is not possible, an overchair table or lap tray may be a suitable alternative. If you are eating in bed, you may also wish to view over bed tables, cantilever tables and tray tables.
Transferring food to the table
Having the dining area close to the kitchen will help make it easier to transfer food and drink between the kitchen and dining area.
To reduce the risk of spillage, food and drink can be taken to the table using a carrying tray or trolley.
A slip resistant material placed on the tray or trolley surface will help keep items stable and also reduce the risk of spillage.
Type of flooring
Level thresholds leading to the dining area will help reduce the risk of tripping when walking to or from the dining area. Slip resistant flooring or low pile carpets will also help reduce the risk of tripping.
Ease of cleaning is also important to consider in the dining area. Vinyl flooring or tiles may be easier to clean, but can become slippery when wet, if not chosen carefully.
Advice last checked: 09 May 2017 Next check due: 09 May 2020
All advice is either supported by references (cited in the text) or is based upon peer reviewed professional opinion. Our advice is impartial and not influenced by sponsors or product suppliers listed on the site.
Conflict of interest statement
References
LifeTec Queensland 2009 Eating and Drinking Equipment Factsheet
View reference Last visited: 16/12/2013

Evidence type: 2