One handed eating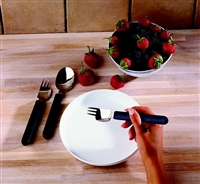 Eating can be difficult for those who have use of only one hand. Some ideas that can help make one handed eating easier are listed below.
Cutlery
Combination cutlery has been designed to be used with one hand, and usually combines the features of two or more cutlery items. For example, the cutlery may combine a knife and fork, a spoon and fork or a knife fork and spoon. Care should be taken if you are putting a cutting edge into or near your mouth, for example with a knife/fork combination. If you have tremor or reduced sensation around your mouth, using cutlery with a knife edge may not be appropriate (DLF, 1996).
Rocker knives cut food using a rocking action, rather than a back and forth 'sawing' motion. This means that food does not need to be stabilised with a fork, allowing food to be cut with one hand (LifeTec Queensland, 2009). Rocker knives are available with various styles of handle, such as angled or built up handles (DLF, 1996).
Plates and bowls
Plates with high sides provide an edge to push food up against while loading a spoon or fork, which can help if you are not able to use a knife to help. Partitioned plates or bowls also offer an edge to push food against.
Plateguards are clipped onto the edge of a standard plate and provide a raised edge partway around the plate (DLF, 1996).
Slip resistant surfaces
When eating with one hand, it can sometimes be difficult to stop the plate from moving when trying to load food onto cutlery. Slip resistant material can be placed underneath a plate or bowl to help prevent it slipping.
Also available are slip resistant plates and bowls, which include slip resistant material or suction cups on the base of the item. Heavy or weighted crockery may also stay in place more easily than standard crockery.
Advice last checked: 24 January 2018 Next check due: 24 January 2021
All advice is either supported by references (cited in the text) or is based upon peer reviewed professional opinion. Our advice is impartial and not influenced by sponsors or product suppliers listed on the site.
Conflict of interest statement
References
LifeTec Queensland 2009 Eating and Drinking Equipment Factsheet
View reference Last visited: 16/12/2013

Evidence type: 2