Choosing drinking equipment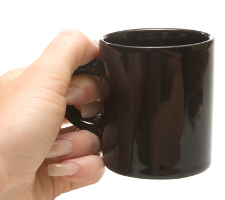 Difficulty handling and using cups or mugs effectively can be caused by a number of problems, such as reduced grip; tremor; pain or stiffness in arms, shoulders or neck; loss of sensation or vision.
Listed here are the different types of drinking equipment available, and how they may help overcome these difficulties.
Cups with enlarged handles
Cups & mugs with non-standard gripThese allow you to use your whole hand to grasp the handle, or you can put your fingers through the handle so that a tight grip is not necessary. When taking a hot drink, a cup made of a material that does not conduct heat as effectively (i.e. plastic rather than china), may be safer to handle if using this method.
Cups with two handles
Plastic cups with lids and handlesThese allow the weight of the cup to be distributed evenly between two hands. The size and shape of the handles are important in enabling you to get a comfortable grip. Handles are often large to allow the use of all the fingers to grip the handle.
Cups with moulded or mouldable handles
These give a more personalised grip, fitting the shape of your hand. Some cups are designed for comfort in mind, others have bendable handles and are modular so that they can be tailored to suit individual requirements. A personalised grip can be added to an existing cup using a mouldable resin.
Spill resistant cups and mugs
Spill-resistant cups and mugsCups and mugs of this style have features such as lids or a spill resistant insert, which may help prevent spillage.
Heavy or weighted cups
Weighted cups and mugsThese may help to reduce tremor as they, by their heavier weight, require more effort to lift, thus stabilising the transfer of the cup or mug. If the tremor is only slight it may be sufficient to use a heavier china cup or mug.
Cups with lids and spouts
Plastic cups with lids and handlesA cup with a lid can be used to prevent the contents spilling. Some cups have 'commuter' lids - a flat lid with a drinking hole which is fairly unobtrusive. Other cups have spouts, either perforated or with a drinking hole at the end. Some drinking holes are wide enough to accommodate a straw.
Cups with large spouts
A longer, wider spout will be easier for the user to form an effective seal around.
Water bottles with spouts
Water bottles with spouts are commonly available, often associated with sports. The spouts come in a range of designs which means you may have to try a number before you find one that works best for you.
Anti-tremor device within the cup
Spill-resistant cups and mugsSome cups and mugs have anti tremor inserts designed to reduce the risk of spilling if the cup is shaken.
Angled or cut-out cups
Cups with angled handles and/or a top edge that slopes away front to back requires less elevation of the shoulders to use.
Insulated cups
Insulated cups and mugsAn insulated cup will enable the drinker to rest their second hand on the base of the cup to assist and steady the manoeuvre of raising the cup to the mouth.
Straws
StrawsA long straw can be used to completely avoid having to lift a cup or a mug. Some mugs come with their own lids with straws, and straw holder are available to make sure the straw stays in the right position.
Straws with integral one-way valves are also commonly available, meaning less effort is required.
Hydration packs
If you like to drink fluids throughout the day, you may find a runner's backpack (hydration pack), a useful way of managing this. This has a water bladder in a slim pack which is carried close to your back. It has an integral straw which is sited close to the mouth. Some people find the water bladders and straws difficult to keep clean.
Brightly coloured cups
A cup or mug can be selected for its brightness or colour contrast from the table/environment it is to be used in. This will make it more easily identifiable from it's surroundings for a person with sight loss. When filling a cup, if the colour of the cup contrasts with the colour of the liquid, the liquid level will be easier to see.
Patterned drinking glasses
A glass with a pattern on, rather than one that is completely transparent, will be easier to locate.
Vacuum cups
These cups have a valve in the lid which is operated by finger pressure, controlling the flow of liquid.
Narrow-top cups
This style of cup will help to reduce the amount of heat lost to the air directly above the drink, but might be more difficult to drink from.
Drinking systems
Hands-free drinking equipmentPeople who have minimal hand and arm movement, or who have difficulty controlling the amount of fluid drawn up into their mouths, may be very dependent on a carer for help, with the consequence that they may no longer feel they are in control of when they can have a drink.
Special systems are available that give back a degree of independence by delivering the drink to the drinker via a straw that incorporates a non-return valve and/or a pump. All systems are free standing on a table top and do not need to be lifted or tilted in any way by the user. These systems should only be obtained after assessment and recommendation by a speech and language therapist as they are deemed to have potential for choking or causing discomfort for an untrained user.
---
To view the products mentioned above, click on the links below
Cups and mugs
Straws
Hands-free drinking equipment
Advice last checked: 05 February 2018 Next check due: 05 February 2021
All advice is either supported by references (cited in the text) or is based upon peer reviewed professional opinion. Our advice is impartial and not influenced by sponsors or product suppliers listed on the site.
Conflict of interest statement
References
Disability SA 2008 Arthritis Management
View reference Last visited: 16/12/2013

Evidence type: 2

LifeTec Queensland 2009 Eating and Drinking Equipment Factsheet
View reference Last visited: 16/12/2013

Evidence type: 2