Ferrules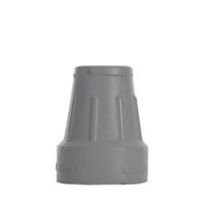 A ferrule is the rubber sleeve at the end of walking equipment. Different sizes are available to fit different diameters of shafts.
All walking equipment should be fitted with a slip-resistant ferrule with a tread that is in good condition. Metal walking equipment must have a ferrule with a metal disc built in to prevent the stick penetrating the rubber.
Ferrules must be checked regularly and replaced as soon as they show signs of excessive wear and tear.
Replacements are usually available from your local authority if the walking aid has been loaned to you by them, otherwise contact the retailer who supplied your walking aid.
In Living made easy we have listings of non-standard ferrules such as pivoting, shock absorbing and ice ferrules.
Further reading: DLF's factsheet Choosing walking equipment
Advice last checked: 26 January 2018 Next check due: 26 January 2021
All advice is either supported by references (cited in the text) or is based upon peer reviewed professional opinion. Our advice is impartial and not influenced by sponsors or product suppliers listed on the site.
Conflict of interest statement