Buying equipment from high street retailers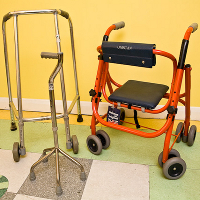 Some well-known high street retailers such as supermarkets, DIY superstores and chemists now sell daily living and/or mobility equipment either instore or online, or both. Although these retailers are conveniently located, there are some things to bear in mind if you are considering buying equipment from them.
Staff knowledge
Many high street shops do not have staff who are aware of disability, and may not be able to give you appropriate advice on the equipment you are buying. See below for how to get professional advice about equipment.
Getting advice or an assessment
For some items it is important that you are assessed properly by a healthcare professional, such as an occupational therapist or physiotherapist. You may be able to get an assessment or advice from social services, find out more about this on the DirectGov website.
Returns and warranties
It is a good idea to check the shop's return policy before you buy, and whether the product you are buying has a guarantee or warranty. Read our advice on buying equipment for further information on guarantees and warranties.
Further information
If you are not sure what equipment is right for you, you might wish to use our service AskSARA to get further advice before you buy.
Read our advice on buying equipment for more things to consider when buying daily living or mobility equipment.