Getting on the road: scooters and powered wheelchairs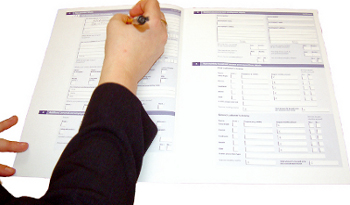 Buying or leasing a mobility scooter or a powered wheelchair is a large purchase. It is recommended that you buy from a reputable mobility shop who can give you expert advice. You can find a local retailer by visiting the British Healthcare Trades Association (BHTA) website and entering your home postcode in the relevant search box.
---
Finance options
Before making your purchase, you may wish to consider hiring a mobility scooter or powered wheelchair rather than buying one.
Motability
If you are in receipt of a mobility component to your benefits, you may use this money to lease or purchase a scooter or powered wheelchair through the Motability Scheme.
The Motability Scheme enables disabled people to use their government-funded mobility allowances to obtain a new scooter, powered wheelchair or car. However, this excludes mobility buggies. It works as follows:
You have to be getting the Higher Rate Mobility Component of the Disability Living Allowance or the War Pensioners' Mobility Supplement to qualify. (Rica, 2010), (Motability, 2014).
You exchange all or part of this allowance for an all-in deal which includes a three year lease of a scooter or wheelchair and a lot more: including insurance, maintenance and repairs. There are over 200 vehicles to choose from. (Rica, 2010)
Many people choose to get a scooter or wheelchair from Motability because the scheme provides all they need in one go and in a hassle free way. (Motability, 2014).
The lease is usually for three years and covers insurance, breakdown cover, servicing and maintenance, but it is advisable to check what is included with your retailer (Research institute for disabled consumers, 2018). Full details of the scheme and latest prices are on the
Motability
website.
Further reading: Your guide to getting a Motability scooter or powered wheelchair.
Private hire
You can also privately hire scooters and powered wheelchairs.
A number of private hire firms make daily, weekly or monthly hire charges, which may vary in amount and in the conditions attached. There are a few points that you may wish to consider before taking out a hire contract for a piece of equipment, for example:
Does the company provide a delivery and/or collection service and, if so, are there any additional charges?
Does the company ask for a deposit before loaning of a vehicle?
If hiring long term is the vehicle subject to a six monthly service liability; if so, will a replacement scooter be supplied in the mean time?
Who is responsible for maintenance, e.g. if you have a puncture?
If you are hiring for holiday use, are you permitted to take the vehicle overseas? Are there additional charges, and/or an increase in the deposit needed?
Are you obliged to take out insurance; if so, is this included in the price and what eventualities does the insurance cover?
When hiring a piece of equipment, ensure that the user understands how to operate and use it before taking delivery or collecting.
If you have a deteriorating condition it may be beneficial to lease a vehicle, as what suits your needs now may not do so in three years' time. Having the option to reassess periodically may be helpful. However, you may find a wider range of vehicle options available to you though a private purchase.
Shopmobility
Many towns and cities have Shopmobility schemes through which people can be loaned scooters, manual wheelchairs and powered wheelchairs to enable them to go shopping. Some of the schemes are free but some require a returnable deposit. For details of your nearest Shopmobilty centre contact the National Federation of Shopmobility (NFSUK).
Private purchase
Mobility stores often have finance options for private purchase. They vary greatly so it's always best to visit a reputable mobility retailer and go through the options they have to offer. What plan they suggest may depend on the amount being spent; it's a bit like buying a car! It's often a convenient option to go for finance in the mobility store as it can all be dealt with there and then, but there is also the option to use a credit card or small loan too, which might offer more competitive interest rates.
Some internet retailers offer 0% finance, however by buying online you may not receive the same after sales support as you would from purchasing from a store, or the same level of assessment and 'try before you buy' options.
Grants
Grants from charities may be available for individuals on very low incomes. The
Disability Grants website
list charities and Trusts that provide funding towards disability equipment. Further information on the provision and funding of scooters and powered wheelchairs can be found in the following factsheets:
Choosing a powered (electric) wheelchair
and
Choosing a mobility scooter
.
---
Insurance
It is advisable to consider taking out an insurance policy, although it is not mandatory (GOV.UK, 2018).
Comprehensive cover may cost in the region of £85 per year for a standard policy or £120 for a 'Plus' policy and will usually include:
Public liability
Breakdown recovery
Accidental damage
Theft and vandalism
Worldwide cover including baggage handling
No excess
No claim bonus
In addition to insurance, some companies also offer a Care Warranty at an additional cost to cover the vehicle after the manufacturer's warranty expires. This may include:
Mechanical and electrical breakdown
The full cost of the parts, callout and labour
No excess
Reputable insurance companies can also be found on the British Healthcare Trades Association (BHTA) website. Once you know who you might get your insurance through, it is worth checking to see if they are a member.
It is also worth asking your mobility retailer who they recommend for insurance as they may get preferential rates, or at least have a company that they recommend. A reputable mobility retailer should advise you to purchase an insurance policy as standard. Always get a couple of quotes and compare the level of cover and the price.
Some companies that insure mobility scooters and wheelchairs:
The Motability Scheme provides insurance cover on all their products
The RiDC website also lists a number of companies offering insurance including: Mark Bates Ltd, Blue Badge Mobility Insurance, Chartwell Insurance, First Senior Group.
Before buying a specific policy, you should check your household insurance to see if your scooter could be covered.
---
Registering with the DVLA
Class 2 scooters or buggies do NOT need to be registered with the DVLA, as they are not for use on roads. (DfT, 2018), (DVLA, 2018).
However, Class 3 mobility scooters (these are the 8MPH scooters that can travel on the road) should be registered with the DVLA.
To register and license a Class 3 vehicle, the form V55/4 for new vehicles and V55/5 for used vehicles should be completed. DVLA forms can be ordered on GOV.UK's website, by picking up the leaflet in most post offices, or by phoning 0870 243 0444. Guidance on completing the forms can be accessed in the DVLA's leaflets V55/4 and V55/5 (GOV.UK 2018).
Some mobility retailers will have the paperwork for you to fill out at point of purchase, otherwise you can order the forms from the GOV.UK website.
Failure to register vehicles with the DVLA is a criminal offence which could prove problematic if you are involved in an accident either on the road or pavement.
---
Further reading
The GOV.UK website has a good webpage called Mobility scooters and powered wheelchairs: the rules, which contains further information on driving on the road, driving on footpaths and parking, eyesight requirements, who can use them and vehicle tax, registration and insurance.
If you are thinking of using the Motability Scheme, then more information (including benefits information) can be found on the Motability website.
Advice last checked: 08 August 2018 Next check due: 08 August 2021
All advice is either supported by references (cited in the text) or is based upon peer reviewed professional opinion. Our advice is impartial and not influenced by sponsors or product suppliers listed on the site.
Conflict of interest statement
References
Directgov 2011 Motoring
View reference Last visited: 25/02/2015

Evidence type: 2

DVLA 2011 Driver and Vehicle Licensing Agency
View reference Last visited: 03/02/2015

Evidence type: 2