Clothing for wheelchair users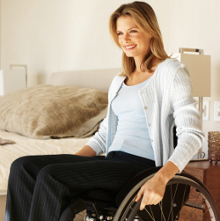 If you use a wheelchair, you may find that some standard clothes are not practical or comfortable to wear for long periods of time. There are clothes designed for wheelchair users commercially available and it is possible to adapt your preferred clothes if you so choose.
If you have reduced, or no sensation in your lower body, and you are immobile in the chair much of the time, you must be aware of how the clothing you wear affects your skin condition.
General guidelines on choosing clothes
A sitting position will cause clothes to ride up, so look for trousers with a longer leg length, or longer dresses/skirts
Jackets which finish just below the waist are easier than a full length coat
Be careful how the clothes are going to drape, especially with thick or heavy material, so that you are not left with bulky 'pools' of material
Depending on your upper body mobility, you may find clothes which pull over the head, or fasten at the front, easier to manage
Underwear which fastens at the crotch can help make toileting easier
Avoid tight clothes or material with no 'give' which might restrict blood circulation
Choose clothes with a looser fit so that they are not tight around knees, thighs and hips
Tops with a looser fit across the shoulders and upper arms will be more comfortable if you self-propel
Clothes with slippery linings will generally be easier to put on and take off
Avoid seams, pockets, creases etc which might cause skin breakdown. Soft, flat seams will be more comfortable
Stretch fabrics are generally more comfortable to sit in and often make it easier to dress
Natural fibres are often most comfortable, are breathable and are best at maintaining body temperature.
Adapting existing clothing
It is often possible to adapt ready-made clothes from the high street so that they are more comfortable or practical to wear whilst using a wheelchair. You, a friend or family member may be able to make the alterations, or a local dressmaker or dry cleaner may be able to do the alterations for you.
Look at adapting the shape if necessary. Also keep fastenings within reach and use less fiddly designs, e.g. magnetic clasps or buttons.
Jackets
Enlarging the underarm of a jacket can help make dressing quicker and easier. This can be done by opening the seams at the arm hole and sewing a gusset into the opening
If you have a long jacket (or coat), shortening the back of it can help prevent you from sitting on the hem, and from the garment from bunching up around your waist and hips when seated. This can be done by opening up the side seams to waist level, cutting the fabric to the required length and then hemming at the new level
Opening up the side seams to about waist level can also help prevent a jacket from bunching and creasing.
Trousers
Lengthening the waist at the back will help make trousers more comfortable while sitting, as well as help avoid gaps between trousers and tops. Do this by unpicking the waistband and attaching an extra piece of fabric then replacing the waistband
Shortening the waist at the front will also make trousers more comfortable while sitting. This is done by unpicking the waistband, removing the zip and cutting away the excess fabric, then sewing the waistband on again. Lengthening the fly opening using spare fabric will also help make dressing easier.
Depending on the looseness of the clothing, you may choose to replace any trouser fastenings with elastic in the waistband
Removing excess fabric and darting trousers behind the knee can help make them more comfortable to wear if sitting for long periods of time.
Buying ready-made adapted clothing
There is a growing range of clothing available from specialist suppliers that has been specifically designed to be more practical or comfortable for wheelchair users. There are also items of specialised equipment if you have particular requirements, such as keeping warm.
There is also a range of items designed for wheelchair users such as long waterproof macs and ponchos and zipped sitting bags to keep your legs warm and protected from wet or windy weather.
Further information
The Independent Living Centre in Devon has a clothing advice service that is run by an occupational therapist. They have printed information and are also able help you over the phone, by email or in the centre if you make an appointment. Visit their website for contact information.
The toileting section on Living made easy has advice on managing clothing when using the toilet which you may find useful.
AskSARA is the Disabled Living Foundation (DLF)'s free online self assessment tool. If you choose the clothes, shoes and dressing section, AskSARA will ask you questions related to the topic, and then offer relevant advice, product suggestions and supplier details.
Advice last checked: 29 January 2018 Next check due: 29 January 2021
All advice is either supported by references (cited in the text) or is based upon peer reviewed professional opinion. Our advice is impartial and not influenced by sponsors or product suppliers listed on the site.
Conflict of interest statement