Clothing for people with sensitive skin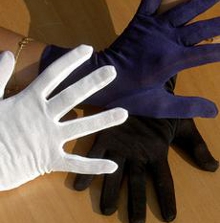 Skin problems can be caused by conditions such as:
eczema or psoriasis
poor circulation
reduced sensation
allergies to certain chemicals, dyes or perfumes.
Choosing the right fabric
Skin allergy, also called 'contact dermatitis', is one of the most common skin diseases (Saint-Mezard et al 2004 in van der Putte et al 2013, section 2.1). An allergic reaction is a hypersensitivity disorder of the immune system. Allergy occurs when a person's immune system reacts to normally harmless substances in the environment.
Numerous chemicals are used in textile production and some of these chemicals can cause allergic reactions. The source of allergy to textiles can be the fabric itself and chemical additives used in processing the fabric. The most frequent allergens are textile dyes which are causes of acute dermatitis with rapid onset (Associazione Tessile e Salute, undated in van der Putte et al 2013, section 5.2.1).
Some chemicals used in textile manufacture wash out, some remain within the fabric. You are advised to wash new clothes before wearing them and where possible select clothes which are made of undyed, natural fabric.
The National Eczema Society (NES) suggest that many people with eczema find cotton clothing preferable, as it allows the skin to breathe and prevents overheating. Many also find silk, linen or soft acrylic to be comfortable against their skin.
The NES also advise people with eczema to avoid cheaper products which can cause problems as they may have been finished with an irritant chemical called formaldehyde, which can trigger a flare-up in some people. Also to be wary of 100% cotton that can only be washed at low temperatures, as this may have also been coated with a chemical finish.
Lycra is widely used in socks, stockings and tights and may cause problems for some people with sensitive skin. Look for alternatives made with more natural products.
Fabrics that are stretchy and 'give' when you move are often more comfortable than stiffer fabrics, especially if you sit for long periods. The weight of a fabric can also be important to consider, especially if you experience pain when moving or if you have limited strength or endurance. Wearing a few lighter weight garments is likely to be warmer and more comfortable than a heavy coat for example.
Styles of clothing
It is likely that you will find loose fitting clothing more comfortable if you have skin problems.
Try to avoid creases and folds in fabric as they can increase the risk of skin breakdown, especially if you are sitting for long periods, or if you perspire a lot. Excess perspiration can cause skin irritation.
In warmer weather, looser fitting clothes allow air to circulate near the skin and remove moisture and heat. Rigid or rough seams, large fasteners and pockets which create uneven surfaces should be avoided. Washing labels can be cut out of clothing if they cause irritation.
Footwear
The chemicals used to tan leather can cause allergic reactions, as can some dyes or material used in constructing shoes, such as rubber and adhesives. Some leather is tanned in different ways, or using natural products, and may not cause a reaction. Some minor allergies to leathers or dyes can be avoided by choosing shoes with a cotton lining, or by wearing cotton socks. Shoes made from fabric are also an option depending on the nature of your allergy, but check the materials used.
You are advised to seek a dermatology (skin) test to identify what chemical or material you are sensitive to, as this will guide your future choices. Manufacturers may provide information on any chemicals or materials used in the structure or manufacturing of their shoes on request.
Wellington boots are sometimes a problem for people who have an allergy to rubber. Some are available lined in cotton. Breathable Wellington boots are also available.
Soles and insoles are made from many different materials. If you are sensitive to a particular material, you may be able to replace them with a more suitable alternative.
Socks, stockings and tights
Socks and stockings with elasticated tops can restrict circulation if they are too tight, and it is important to avoid these if you have a condition such as diabetes. Socks which are very loose and wrinkle easily, or socks with holes, should also be avoided as they can contribute to pressure areas. (Diabetes UK, 2008).
Lycra is widely used in socks, stockings and tights and may cause problems for some people with sensitive skin. Choosing garments made from 100% cotton may be more suitable.
Further information
The National Eczema Society has information and advice for people with eczema as well as information on where to buy 100% cotton clothing.
Diabetes UK has information and advice on how to take care of your feet if you have diabetes. They also have a care line and run local support groups.
Advice last checked: 29 January 2018 Next check due: 29 January 2021
All advice is either supported by references (cited in the text) or is based upon peer reviewed professional opinion. Our advice is impartial and not influenced by sponsors or product suppliers listed on the site.
Conflict of interest statement