Differences between Class 2 and Class 3 scooters & buggies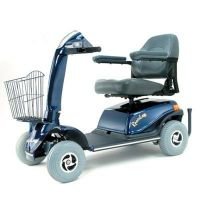 Powered wheelchairs are divided into a number of categories. Some are designed for use indoors only and are portable enough to fit in the boot of a car. Others are for outdoor use only - these are generally larger and heavier. Some are designed for both indoor and outdoor use.
All powered wheelchairs and scooters are classified as 'invalid carriages' by the Department for Transport and are categorised as either:
Class 2 products which can only be used on the pavement (except where these is no pavement) and have a maximum speed of 4mph. Service users aged under 14 are restricted to Class 2 products only.
or Class 3 products which must be registered with the Driver Vehicle Licensing Authority (DVLA) (more advice is available from your local Motability dealer). These chairs can travel up to 8mph on the road, although must only be driven at 4mph on pavements. When driven on the road, they must obey all requirements and regulations as other road users.
The differences in weight and power (and thereby speed) of the two enable them to access different environments, but also have different legal requirements for the driver.
Class 2:
are generally smaller, lighter and less powerful
can be designed for indoor and/or outdoor use. If for indoor use, they will have limited outdoor use and less distance range
some can be dismantled or folded for transporting
cannot be used on the road (except where there is no pavement or to cross the road)
outdoor models have the ability to climb kerbs
have a top speed of 4mph (6.44 km/hour)
do not need to be registered with the DVLA.
Class 3:
are generally bigger, heavier and more powerful
are not for indoor use
can be used on the road
have a longer distance range
cannot be dismantled
have a number of additional safety requirements to allow road use
have a top speed of 4mph (6.44 km/hour) off the road and 8mph (12.9 km/hour) on the road must be registered with the DVLA
the user must be aged at least 14 years.
Class 3 vehicles are not allowed on motorways, bicycle tracks or bus/cycle lanes, but are legally allowed on dual carriageways.
Advice last checked: 29 January 2018 Next check due: 29 January 2021
All advice is either supported by references (cited in the text) or is based upon peer reviewed professional opinion. Our advice is impartial and not influenced by sponsors or product suppliers listed on the site.
Conflict of interest statement
References
DfT 2011 Code of practice for Class 3 vehicle users
View reference Last visited: 03/02/2015

Evidence type: 2

Directgov 2011 Highway Code
View reference Last visited: 25/02/2015

Evidence type: 2

DVLA 2011 Driver and Vehicle Licensing Agency
View reference Last visited: 03/02/2015

Evidence type: 2