Garden Design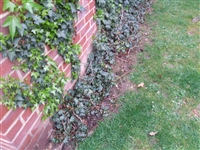 1. General considerations when designing a garden
Consider the overall composition and style of garden you prefer. You may want a traditional or more modern garden. (Horticultural society, 2008).
Simplicity is key to a relaxing space particularly in small places. Prepare a plan of your garden. Consider the scale of the shrubs and trees in relation to the available space you have so there is a sense of balance and harmony. (Horticultural society, 2008).
How much time do you want to devote to gardening or enjoying your outdoor area? Do you just have a few hours at the weekends or want to spend longer in your garden? This may determine the design and nature of plants or vegetables you might want to grow. (Royal Horticultural Society, 2010).
Consider the view from your home? The heights of windows may affect a wheelchair users view. (RNIB, 2010). If window height does limit your view flowers in raised beds and containers close to your back door may be more visible.
What are the most important features of the garden for you? a seating area, being able to grow flowers or vegetables? a patio area with pots? (Horticultural society, 2008).
What aspect is your garden? Is it south, west or east facing? This may affect the position of your seating area. Will there be sufficient sun or shade depending on the position and time of year? This may affect the types of plants you decide to grow. (Horticultural society, 2008).
Do you need space for bins, a shed, or a washing line area which are easily accessible to your home in all types of weather? These are an essential component of the overall garden design to ensure it is functional and practical. (Horticultural society, 2008).
The type of soil will also determine the selection of plants and vegetables you can grow. (Royal Horticultural Society, 2010). If your soil does not suit the type of plants you wish to grow you could consider using raised beds or planters where you can have easier access and control the soil you use.
Colour is an important element in creating the mood of the garden. Planning is important to avoid colours clashing. Bright colours such as orange and red tend to seem closer than they are, while paler colours, blues or whites will seem further away. You can use this to create an illusion of space. (Royal Horticultural Society, 2010).
Some people with low vision tend to see yellow, white and blue flowers longer than other colours. (RNIB, 2010).
Consider using colour contrast between plants, shrubs and the background area. For example, choose pale coloured plants against a dark shrub or fence.
Plant a variety of colour and shapes together to create interest. If you have particular favourites, ensure you can easily access them via a path or by using a raised bed, container or hanging basket. (RHS, 2010).
The following products may be used to produce a tactile garden plan.
Grasses can create a distinct sound in a breeze. This may be of interest to garden users who are blind or have low vision.
Choose scented plants but don't plant too many together or the result could be confusing. Lavender and lilac are two examples.
Plants with a distinct tactile feel such as the bark on eucalytus trees, the silk feel of lambs ears or the soft down feel of jerusalem sage may provide further interest. (Royal Horticultural Society, 2010), (RNIB, 2010), (RHS, 2010).
4. Can your current garden layout be simplified?
Can you simplify the garden layout to create straight paths and borders? This may help make it easier to access your garden using a wheelchair or mobility equipment. (RNIB, 2010).
Can you bring parts of your garden closer to your house by using raised containers, pots or hanging baskets near your back door?
Can you rearrange where you store your tools so you don't have to move things so far?
Thrive, a national gardening charity have a useful section on garden design for all disabled gardeners with specific tips for a range of situations
The RNIB have a Gardening information pack.
Advice last checked: 30 January 2018 Next check due: 30 January 2021
All advice is either supported by references (cited in the text) or is based upon peer reviewed professional opinion. Our advice is impartial and not influenced by sponsors or product suppliers listed on the site.
Conflict of interest statement