Choosing a camera and accessories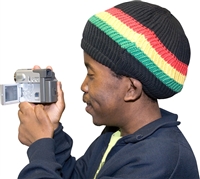 General considerations when choosing a camera
Make a list of the camera features you require before purchase. It may be worth looking at reports in Which? magazine (online by subscription or from your public library) or other specialist photography magazines or websites.
What type of photography are you particularly interested in? A camera with high shutter speeds may suit sports photography, a camera with a short minimum focusing distance may suit close up photograpy and a camera with a wide angle lens may suit landscape photograpy. Most compact cameras suit general everyday photography. The Which? magazine has camera reviews related to different types of photography.
If you will be taking close up photographs, group portraiture or photographs in low light levels ensure there is a tripod mount on the base of the camera.
Consider the weight of the camera particularly if you are thinking of purchasing a SLR camera as these can weigh a lot more than a compact camera.
Check the type of batteries required by the camera. Some cameras have custom batteries which although rechargeable can be expensive when you come to replace or if you want a backup. Other cameras, take AA or AAA batteries which may go flat quickly especially if your using a flash. You may choose to use rechargeable batteries.
Check the size and position of the controls. Some are fiddly particularly on ultra compact cameras and may not be suitable if you have reduced hand function. If your camera is mounted on your wheelchair ensure you can access the controls.
If you wear glasses it might be easier to use a camera with a slightly larger LED screen (at least 5cm/2in diagonally across the screen) and/or a camera with a diopter adjustment for the viewfinder. In bright weather, the sun's glare makes it hard to see what's on the screen. In this case, it is helpful to be able to have a camera with a viewfinder. Some digital cameras no longer have viewfinders. (Which, 2010).
If you do not find any appropriate equipment to adapt your camera you could try contacting organisations that may build custom items or modify equipment.
Mini glossary
(from Which? jargon buster). (Which, 2010).
Pixels
These are the building blocks of a digital photo. If you enlarge an image on a computer, you will see its made up of tiny squares, which are the pixels. Digital photos comprise thousands or millions of pixels.
Resolution
The more pixels there are in a digital image, the sharper it will appear. This is the resolution, and is often expressed as two figures that represent the photograph's width and height, such as 1200 x 1600 pixels.
Mexapixel
A measure of the size and resolution of the picture that a digital camera can produce. One megapixel equals one million pixels.
Liquid Crystal display (LCD screen)
A monitor often used on the rear of a digital camera. It may let you view and frame a screen before you take a shot, view the photograph after you've taken it and display camera settings.
Zoom
Nearly all cameras offer some form of zoom capability. This lets you concentrate on an object further away and make it appear larger without you being physically closer to it. (Which, 2010). If you are purchasing a compact digital camera you need to be aware of:
Optical zoom
This is more important as it measures the actual magnification capabilities of a lens. A 3x optical zoom lens, is the minimum zoom measurement of most digital cameras and will magnify the image by three times. (Which, 2010).
Digital zoom
This enlarges the image after its shot and can lead to an image losing its sharpness as it increases the size of the pixels. (Which, 2010).
Image stabilisation
An optical or digital system built into a lens for removing or reducing camera movement often caused by hand shake.
Memory card
A removable storage device which holds images taken with the camera. Memory cards come in a variety of sizes and there are several types including Compact Flash, multimedia and SD cards.
Diopter adjustment
This adjusts the lens of the view finder so you don't have to remove your glasses each time you take a picture.
Digital SLR (single lens reflex) cameras
These cameras have interchangeable lenses which allow you to swop the lenses to suit the type of photography you want to do. They provide advanced manual control over camera settings, compact cameras usually have automatic settings.
Disposable or standard batteries There are two main types, alkaline or lithium. Alkaline batteries are cheaper but lithium will last longer in a camera which is a very high drain device. (Which, 2010).
Rechargeable batteries These are mainly Nickel Metal hybride (NiMH) batteries. They are more expensive than disposable batteries but are likely to save money in the longer term. Newer NiMH batteries called "hybrid" or "pre-charged" rechargeables batteries hold their charge for longer which is ideal if you will not be using your camera for a few weeks.
When buying rechargeable batteries for a camera ensure they have a high mAh capacity (at least 2500mAh), if they have a low mAh they may be flat after only a few photographs. (Which, 2011).
Useful links and information about photography
Age UK have a basic factsheet on digital cameras getting in the picture which may be particularly useful if you are new to digital photography.
The Disabled Photographers' Society provide technical advice on cameras or help with modifications and may supply supports on loan to enable photographers with disabilities to use cameras and take photographs. They publish a magazine called 'In focus.'
Mencap has a range of factsheets in an accessible format for people with learning disabilities.
How to get the best from your camera
Top tips for taking photos
Ideas for photo or film when entering their annual photography exhibition.
OneSwitch has a blog on various switch adapted digital cameras from around the world, including mounting solutions. OneSwitch is a resource of fun ideas and 'assistive technology' aimed at people with a moderate or severe learning or physical disability. The website includes a Switch accessible art page.
Advice last checked: 05 February 2018 Next check due: 05 February 2021
All advice is either supported by references (cited in the text) or is based upon peer reviewed professional opinion. Our advice is impartial and not influenced by sponsors or product suppliers listed on the site.
Conflict of interest statement