What is daily living equipment?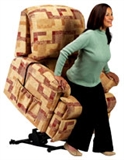 Most people with a long-standing disability will already know what items of equipment can help them. However, if you have recently acquired a disability, or are generally slowing down as you get older, you may want to find out about the useful gadgets and adaptations that exist to make everyday tasks easier.
These items are today known as daily living equipment or assistive technology. However, you may in the past have heard them referred to as aids for daily living, disability aids, disability products, or even disabled equipment!
There are four main types of equipment:
Items designed specifically for older or disabled people to overcome a particular difficulty, e.g. a wheelchair, bath board, raised toilet seat;
Standard equipment with a particularly helpful feature, e.g. an electric tin opener, vacuum cleaner, food processor or computer. All of these can take the physical effort out of an activity;
Standard equipment that has been adapted, e.g. an extension on a comb for a person with limited reach, or suckers on a nail brush for someone who has the use of only one hand;
Custom-made items specially designed for the particular needs of one person. This could be home or commercially made, or produced by a local REMAP group with volunteers who will make one-off items for individuals.
You may not always need equipment to solve dificulties
Before you spend time tracking down an item, remember that some difficulties may be resolved by changing the way you carry out a task, reconsidering your timetable, or even by rearranging the furniture. For example:
If it is difficult to get in and out of the bath, then a shower may be easier;
If you are too tired to cook a meal in the evening, and ready-made microwavable meals are not an option, prepare a meal in the morning that can be re-heated later.
Drip-dry clothes or tumble drying them will reduce the need for ironing.
When you have carried out an activity in the same way for years, it is sometimes difficult to imagine that any other way is possible or acceptable. However, you may find another approach that is quicker, easier and less tiring.
About the DLF
For nearly 40 years, the Disabled Living Foundation (DLF) has been providing expert advice on matters relating to equipment for independent living. It maintains and updates a huge bank of product and supplier information and disseminates advice and information in a variety of ways including a telephone Helpline; a written enquiry service; by producing a wide range of publications and factsheets on choosing and using equipment; and by running an equipment centre displaying a wide range of useful items. Our trained staff will demonstrate items and discuss practical problems with you.
Please note that the DLF does not sell equipment. We offer independent advice about the whole range of equipment that is available and can give you contact details for suppliers and manufacturers as appropriate.
There are hundreds of companies selling a great many items of equipment. If you are unable to track down a particular item, or wish to receive additional information, please phone our Helpline or write to us.