Reducing the risk of falling on the stairs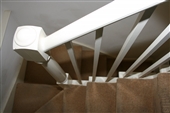 Fit and use stair rails
The use of handrails enhances stability, assists in recovering from trips and stumbles, and helps to reduce the frequency and severity of accidents on the stairs (Templer, 1992). Make sure the handrail/s are well-secured. If you only have a banister on one side of your stairs then consider having a handrail installed on the other side of the stairs. Click on the picture below to see a range of stair rails, for more information on the different
types of stair rails click
Do not leave items on the stairs. This includes both small temporary items such as laundry and larger more permanently items such as furniture.
Park your stair lift A stairlift, if fitted, should be parked in a position along its track that does not cause an obstruction to the stairs or landing. On some models care also needs to be taken that it is parked at a certain location on the track so that the battery can charge.
Fit open lampshades and use bulbs of an adequate wattage. Increasing the wattage of the bulbs you use from 60 to 100 watts may be sufficient but do not exceed the wattage stated on the lamp shade. Energy efficient bulbs have the advantage of lasting longer so you don't have to change them as frequently and cost less to have on so you may be happy to leave them on in the evening. However they take a few minutes to reach full brightness and do not work with dimmer switches.
Lighting which will automatically turn on when movement is detected is available, this may be useful if you sometimes forget to turn lights on when using your stairs. If you only have a switch for your stair lighting at the top or bottom of your stairs then wireless switches can be easily added to enable you to turn your stair lights on from both the top and bottom of your stairs.
Replace stair carpets or surfaces that become worn or damaged. Make sure there are no uneven surfaces, or protruding nails. Have a carpenter correct uneven steps as they are dangerous. Remove rugs from stairs and landings.
When replacing stair carpets/surfaces choose light colours and avoid patterns. Heavily patterned carpets tend to camouflage the edges of steps, particularly patterns with horizontal and vertical lines.
Do not stretch to reach a window over the stairs If you have difficulty, or do not feel safe, opening or cleaning a window over your stairs or opening/closing the window's curtains, then ask someone else to complete these tasks or have the curtains removed. Electrically operated curtain rails are available which enable you to open / close your curtains with a remote control. View electrically operated curtain rails
Do not hurry on the stairs as this is a frequent cause of accidents. Many people rush on the stairs to get to the door bell or telephone, or the toilet.
If you sometimes hurry on the stairs to get to the telephone then there are several options available to avoid this. Read suggestions how to avoid needing to rush to answer your phone
If you sometimes rush on the stairs to answer callers to your door then you could request that friends, family and regular callers allow you extra time to get to your door so that you do not feel it necessary to rush.
You could consider having an intercom installed upstairs so that you can speak to a caller to your door, and ask them to wait. You may even wish to combine the intercom with a remote door release. This will allow you to open the door without going downstairs, once you've spoken to the caller and are satisfied you wish to let them in. Click here to view a range of intercoms and remote door releases
Do not carry items up or down the stairs If you experience difficulty carrying objects up and down stairs then make a list of items you wish to be transported up or down the stairs and then ask your next visitor to carry the items up or down for you.
If you carry a walking stick on the stairs and find it gets in your way while you are trying to use your hand rail/s then obtain an additional walking stick (set at the correct height) and leave one at the top and one at the bottom of your stairs.
Avoid cleaning, or adapt your method of cleaning your stairs If you experiencing difficulty, or feel unsafe, when cleaning your stairs then arrange for a cleaner, friend, relative or carer to clean your stairs. If you do wish to continue cleaning your stairs consider using a cordless lightweight vacuum with an extension piece fitted so you do not have to bend or manage a cable when vacuuming your stairs.
Have your medication reviewed If you believe any medications you are taking are making you feel drowsy, dizzy or affect your vision then ask your G.P to review your medication.
Drink alcohol in moderation Know your alcohol tolerance and do not drink alcohol if you have been advised that it may affect your medication/s.
Make sure your able to see the edges of your stairs clearly Remember to remove reading glasses before walking up or down your stairs. If you wear bifocals you may need to adjust your glasses so you can see the stairs clearly.
In addition you could fit special strips you can buy to increase the visibility of each step.
For more information on home safety visit the Royal Society for the Prevention of Accidents.
Back to advice on the causes of falls on stairs
All advice is either supported by references (cited in the text) or is based upon peer reviewed professional opinion. Our advice is impartial and not influenced by sponsors or product suppliers listed on the site.
Conflict of interest statement