Stair safety, the causes of falls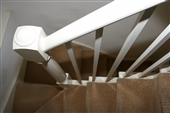 Read suggestions to improve your safety on your stairs
Stairs are the location in the home where most deaths and major injuries occur. In the UK almost 1,000 deaths occur each year among older people as a result of falls on steps and stairs in the home. In addition to the deaths 57,000 older individuals attend hospital A&E departments each year due to accidents on their steps and stairs (DTI, 2000, Templer 1992). For more information on home safety visit the Royal Society for the Prevention of Accidents.
What are the most common causes of falls on the stairs?
The most common causes of falls on the stairs can be split between factors involving the individual, their behaviour and factors involving the environment:


Personal factors which make an individual more likely to fall on their stairs include:
- Decreased balance
- Disturbed gait
- Illness
- Impaired vision
Difficulties involving judgment of distance and depth perception are particularly important. Some users of bifocal glasses report they cause distortion of the steps when going up / down stairs.
- Medication side effects
- Reduced strength
Behavioural factors which make an individual more likely to fall on their stairs include:
- Hurrying
This can include hurrying to answer the door, the telephone, go to the toilet and retrieving items left up /downstairs
- Carrying objects on the stairs
- Leaving objects on the stairs
including both small temporary objects and large more permanent objects such as furniture
- Using the stairs without a turning a light on
- Using awkward and heavy cleaning equipment
- Drinking alcohol
- Use of bifocal and varifocal spectacles
Environmental factors which make an individual more likely to fall on their stairs include:
- Carpet or step surface in poor condition
- Loose rugs / mats positioned on or at top of stairs
- Objects left on the stairs
- Poor lighting over the stairs This can include lighting with bulbs 6o watts or less, households with low energy bulbs which take time to reach adequate brightness or lampshades that cast shadows
- Absent, or poorly designed, stair rails.
- Patterns on floors and walls, which make it difficult to judge visual depth (for example, repeating patterns on carpets and wall paper)
Read suggestions to improve your safety on your stairs
All advice is either supported by references (cited in the text) or is based upon peer reviewed professional opinion. Our advice is impartial and not influenced by sponsors or product suppliers listed on the site.
Conflict of interest statement