Inflatable bath lifts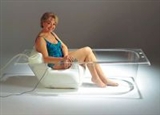 Inflatable bath lifts lower a person to the bottom of the bath and are lighter to remove and transport than rigid powered bath lifts. However they still require a user to be able to independently lift their legs over the bath rim or have assistance from a carer to complete this task.
The relative low weight of the bath lift is significant, especially if the bath is being regularly used by other members of the household and the bath lift therefore needs to be lifted out.
The user requires reasonable balance and trunk stability to use inflatable bath lifts. However newer models have improved design with additional suckers attaching to the bath so that the overall stability of the seat has increased.
The bath lift will decompress after use and can be left to air dry. Some models can be hung on a hook for easy storage.
Try before you buy:
When considering bathing equipment an individual assessment with an occupational therapist may be appropriate, as your safety in your bathroom is very important. There may also be individual factors which determine which bathing equipment best suits your needs. The information on this site is not a substitute for individual assessment.
We recommend you try out a bath lift before purchase. Visit the Disabled Living Foundation's webpage on
Equipment Demonstration Centres in the UK
to find an equipment demonstration centre near you. The centres provide individuals with opportunities to view, and try, products and equipment and obtain information and advice from professional staff about equipment that may assist them.
Further information:
For further information please read our general bathlifts advice page.
Advice last checked: 28 February 2016 Next check due: 28 February 2019
All advice is either supported by references (cited in the text) or is based upon peer reviewed professional opinion. Our advice is impartial and not influenced by sponsors or product suppliers listed on the site.
Conflict of interest statement
References
Disabled Living Foundation 2014 Choosing equipment for bathing
View reference Last visited: 30/09/2015

Evidence type: 2

Pain, H., McLellan, L. and Gore, S. 2003 Choosing Assistive Devices: A Guide for Users and Professionals
Jessica Kingsley Publishers : London and Philadelphia

Evidence type: 1; 2