Bath seats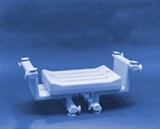 Bath seats provide a sitting platform within the bath. From here, a person can use a hand held shower or wash with bathwater. Some of the seats have a cut-out section at the front to make personal cleaning easier.
Bath seats may be used with a bath board.
Bathing from the seat means you will not be lying in deep water and can't stretch out in the bath. It is recommended that bath seats are used in conjunction with a slip-resistant mat or alternative products.
Strong arms are needed to lower and stand from the seat and you must be able to sit up straight, i.e. be able to bend at an angle of 90 at the hips. You need to bend further forward to reach your feet, or alternatively could use a long handled sponge.
There are 3 types of bath seats: suspended, wedge and freestanding.
Suspended seats hang down from the bath rim. The width of the bath seat's frame can be adjusted to fit different sized baths. The ends of the frame are covered in a slip-resistant material to provide extra grip and to prevent damage to the bath. Suspended seats can be used in metal and acrylic baths.
Some suspended seats have a back rest or support which makes them difficult to use with a bath board.
Free-standing bath seats have feet or suction pads which stand on the bottom of the bath. Some have adjustable side brackets, which can be tightened to wedge against the side of the bath, reducing seat movement and providing the user with extra stability. They can be used in metal and some acrylic baths. Check with both the manufacturers of the bath seat and your bath.
They may be difficult to remove if the suction cups require the user to reach into the bath to detach them.
Wedge bath seats have four hinged paddles, with rubber paddle caps, which are attached to the metal seat frame and wedge against the sides of the bath. The frame can be adjusted to ensure a firm grip against the bath sides. Most are only suitable for use in metal baths1,2,3 - some plastic and glass fibre baths may crack as the legs push against the sides of the bath. Wedged seats are usually easiest to remove from the bath.2
Seat height varies across different models, some models are available in two or three different heights, others have an adjustable height. Some of the wedge seats have reversible paddles which give a choice of two seat heights. The height of the tallest bath seats may be level with the bath rim.
Backrests are available on some models, a high backrest will provide much more support than a low one, but cannot be used in conjunction with a bath board. Padded backrests will provide more comfort.
The weight of the bath seat may be important if the seat is to be moved frequently or taken away on holiday.
An advantage of using a bath seat to sit in a bath and shower instead of a bath board is that a shower curtain can be used and hang inside the bath.
Before purchasing a bath seat, check the weight capacity, particularly for larger bathers.
Try before you buy:
When considering bathing equipment an individual assessment with an occupational therapist may be appropriate, as your safety in your bathroom is very important. There may also be individual factors which determine which bathing equipment best suits your needs. The information on this site is not a substitute for individual assessment.
We recommend you try out a bath seat before purchase. Visit the Disabled Living Foundation's webpage on
Equipment Demonstration Centres in the UK
to find an equipment demonstration centre near you. The centres provide individuals with opportunities to view, and try, products and equipment and obtain information and advice from professional staff about equipment that may assist them.
Advice last checked: 28 February 2016 Next check due: 28 February 2019
All advice is either supported by references (cited in the text) or is based upon peer reviewed professional opinion. Our advice is impartial and not influenced by sponsors or product suppliers listed on the site.
Conflict of interest statement
References
Disabled Living Foundation 2014 Choosing equipment for bathing
View reference Last visited: 30/09/2015

Evidence type: 2

Pain, H., McLellan, L. and Gore, S. 2003 Choosing Assistive Devices: A Guide for Users and Professionals
Jessica Kingsley Publishers : London and Philadelphia

Evidence type: 1; 2