Stair rails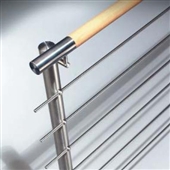 Most staircases have a handrail or banister on one side although this may not extend the full length of the staircase. Most DIY stores sell handrails which can be used to extend the existing handrail all the way up the staircase if required.
Adding a second handrail to the other side of the staircase may be helpful. The additional rail should be fitted at a height that matches the existing rail and extend an additional length of 300mm at beginning and end of the staircase.
---
As rails and rail fittings are so widely available this site only lists stair rails with features which make them safer or easier to use.