Stairlifts with wheelchair platform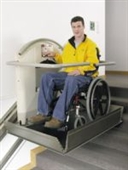 Stairlifts with a wheelchair platform remove the need for a user to transfer out of their wheelchair and onto a stairlift. Instead the user can self-propell or be pushed straight onto the platform.
When considering a wheelchair platform stairlift an individual assessment with an occupational therapist is strongly recommended, your safety on your stairs is paramount. There may be individual factors which determine whether a platform stairlift, or alternative equipment, best suits your needs.