Standing and perching stairlifts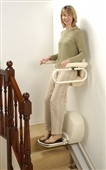 Standing stairlifts consist of a footplate and armrests and / or handrails, the user stands on the footplate while being transported up or down stairs.
Perching stairlifts are similar to standing stairlifts except that they provide a small amount of additional support underneath the buttocks. Thus the user is transported in a perching position, between sitting and standing.
When considering whether a seated or standing stairlift best suits your needs an individual assessment with an occupational therapist is strongly recommended, your safety on your stairs is paramount. There may be individual factors which determine which stairlift, or alternative equipment, best suits your needs.