Emergency Call Pendant With Gsm Telephone Auto Dialler
Manufactured by Medpage Ltd T/A Easylink UK
Priced from
£70
(Inc. VAT)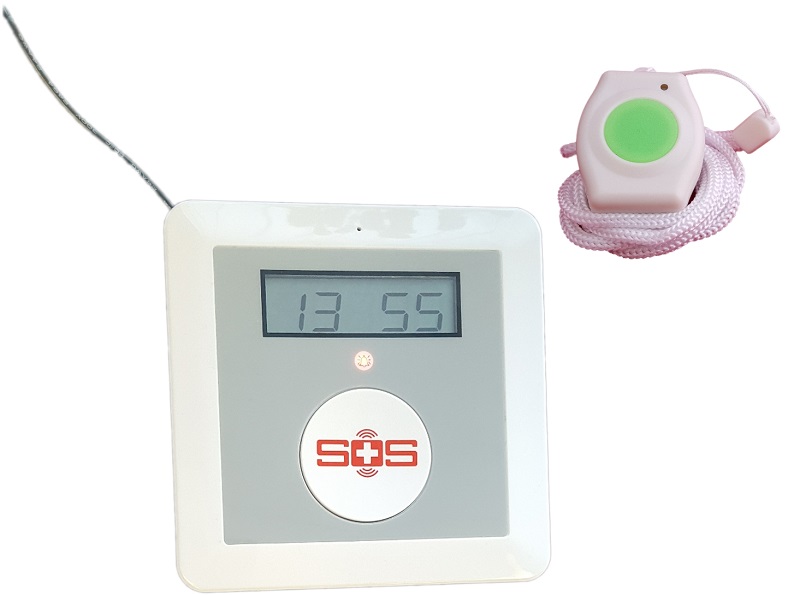 DLF's summary
Emergency call pendant with GSM telephone auto dialler.
Features
designed to be portable
glow in the dark call button
sends temperate and mains power failure alerts
waterproof pendant
lanyard
GSM dialler
alarm pager
tone and vibration alert
built-in two-way voice intercom
signal loss indicator
downloadable smartphone app stores emergency contact numbers, alert text messages, temperature and settings
requires standard mobile network SIM card
up to ten hour battery backup
Product dimensions
Telephone
Separate or integral
integral
Power source
Back up power time if mains electric fails
8hours
Dimensions
Height
3.5cm
Width
12cm
Weight
820g
Length
12cm
Dialling
LCD display
Standard
Where can I buy this product?
The UK national suppliers that sell this item are listed below.
Mail order
Online shop
X
Supplier details
Head office
3 Melbourne House
Corby Gate Industrial Park
Priors Haw Road Corby
Northamptonshire
NN17 5JG
UK

Supplier details last checked:
14 November 2017,

Next check due:
14-11-2019
Medpage Ltd T/A Easylink UK
's name for this product is
Emergency Call Pendant With Gsm Telephone Auto Dialler
Their product code is:
ELK4PO
From

£70

Inc. VAT
Checked by DLF on 14 November 2017
National suppliers (Explain)
The following suppliers have not updated their product details for over two years. We list the last price they entered but provide less information on them. These records will be removed after three years. They can update their records using our self-service system.
| Supplier name | Guide price | Last updated |
| --- | --- | --- |
If you are one of the suppliers listed here, and don't know how to update your product information please contact our Data Services team to find out how to update your information.
Manufacturer's contact
Medpage Ltd T/A Easylink UK
3 Melbourne House
Corby Gate Industrial Park
Priors Haw Road
Corby
Northamptonshire
NN17 5JG
UK
01536 264869
sales@easylinkuk.co.uk
http://www.medpage-ltd.com
Manufacturer's product description
If you need a reliable home pendant call system you will not find better value than this one. The waterproof pendant has a range of up to 50M, suitable for use in most houses and is supplied with a lanyard. The kit includes a GSM dialler that uses the mobile phone network to send alerts to carers, neighbours, relatives or friends. An alarm pager is included in the kit, ideal for live-in carers or partners. A press of the pendant raises an alarm to the pager, with tone & and vibration alert and or the emergency phone dialler.


With no subscription or monthly monitoring costs, the system provides a complete help call system to aid care of the elderly or vulnerable living at home for less than ÂÂ�1.00 per week (typical cost of text alerts or phone call alerts). The dialler can also send temperature alerts if the house is too hot or too cold and if there is a mains power failure. A simple to use Smartphone APP takes care of customising your emergency contact numbers, alert text messages, temperature and other settings.

BEST BUY HOME SOS PENDANT SYSTEM THAT YOU CAN USE AWAY FROM HOME TOO
The dialler hub can report and raise an alarm to home power failure and room temperature extremes with a high and low setting quickly set via the APP. Additionally, a large SOS button initiates a phone call to stored emergency contacts. The system is completely portable allowing it to be used in the home, taken on holiday and can even be used from a car or in a remote area. The dialler hub also has a powerful two-way intercom and a listen-in feature. Additional items can be added to the system including; PIR movement sensors, door and window security sensors, smoke alarms and many of our care sensors.

REQUIRES STANDARD MOBILE NETWORK SIM CARD (NOT SUPPLIED)
SUITABLE FOR USE ON ANY UK MOBILE NETWORK
BUILT IN TWO-WAY VOICE INTERCOM
GSM SIGNAL LOSS INDICATOR
24 HOUR SYSTEM INTEGRITY MONITORING
POWER FAILURE/RESTORE ALERT VIA SMS
HOME TEMPERATURE MONITORING
LARGE SOS EMERGENCY BUTTON (ON HUB)
HUB SETUP VIA PHONE APP (IOS/ANDROID) OR SMS TEXT MESSAGES
INTERNAL RADIO RECEIVER FREQUENCY 433.92MHz
POWERED BY 9V DC POWER ADAPTOR
8-10 HOUR BATTERY BACKUP
QUAD-BAND (850/900/1800/1900MHz)
DIMS: 120mm x 120mm x 35mm
GROSS WEIGHT 420G
TIME & TEMPERATURE DISPLAY
PENDANT RANGE 150M
GLOW IN THE DARK CALL BUTTON

IN THE BOX: 1 x GSM dialler, 1 x AC power adaptor, 1 x waterproof call pendant with battery, 1 x MPPL Alarm Pager with 2 x AA batteries 1 x manual.