Telephone With Emergency Panic Button
Manufactured by Lifemax Ltd
Priced from
£156
(Inc. VAT)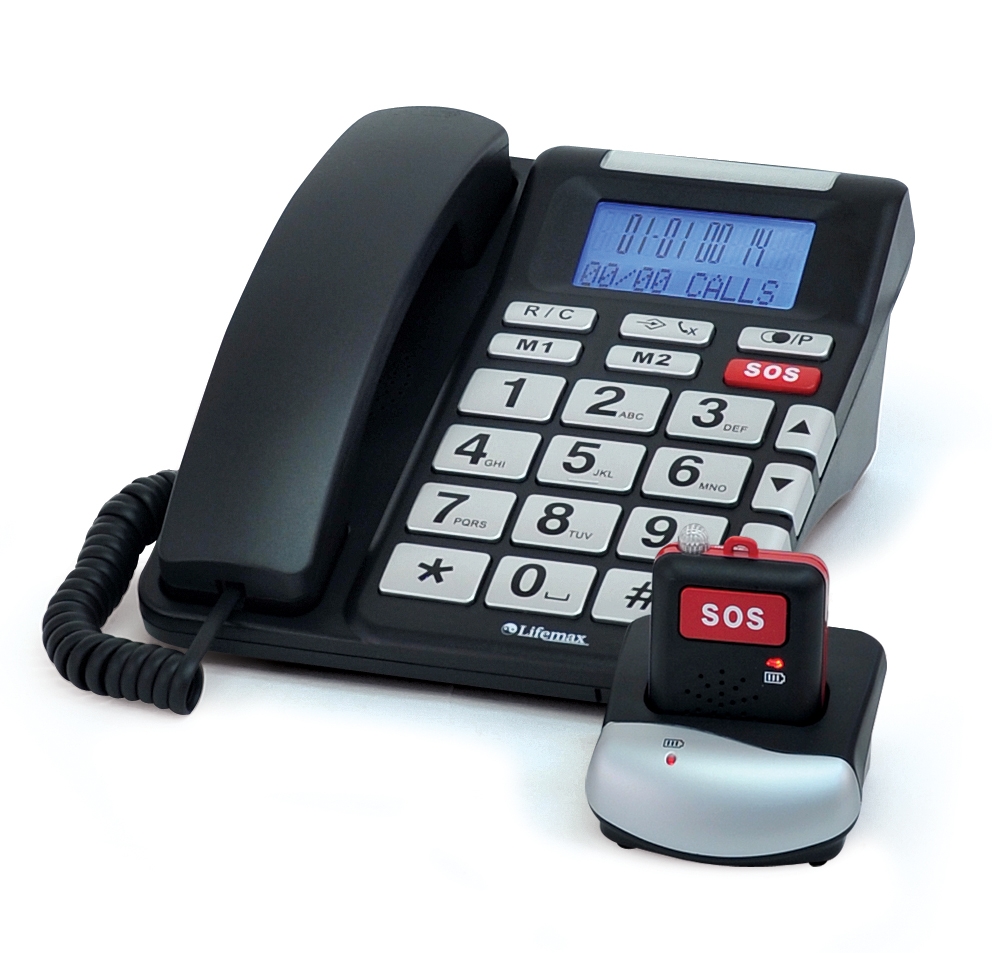 DLF's summary
Automatic phone dialling system.
Features
emergency button on the pendent and telephone
when emergency button is pressed unit dials five contacts of user's choice until a response is received, if a number is busy (or on voice mail) it will dial the next pre-programmed number
when an emergency call is answered an emergency message is played and then two-way conversation can be made through the pendent or hands free on the telephone
carers can be given a PIN number that enables them to remotely hear the area around the telephone or pendant
pendent rechargeable in provided stand
big button keypad
80 phonebook memory, two direct memories, ten two-touch memories
talking keypad and caller ID (subscription required)
hands free speakerphone
low battery and pendant out of range alert
adjustable volume on the main unit
light indicates incoming calls
Accessories
additional pendant
wrist strap for pendant
Product dimensions
Features
No. of emergency numbers dialled in sequence
5
Dimensions
Pendant range
50metres
Dialling
How many quick dial memory buttons
2
Alarm
Two-way speech
Standard
Where can I buy this product?
The UK national suppliers that sell this item are listed below.

Mail order
Online shop
X
Supplier details
Head office
52 The Droveway
Hove
East Sussex
BN3 6PP
England

Supplier details last checked:
11 November 2016,

Next check due:
11-11-2018
Essential Aids (essentialaids.com) Ltd
's name for this product is
Telephone With Emergency Panic Button
Their product code is:
HC091535574
From

£156

Inc. VAT
Checked by DLF on 11 November 2016
National suppliers (Explain)
The following suppliers have not updated their product details for over two years. We list the last price they entered but provide less information on them. These records will be removed after three years. They can update their records using our self-service system.
| Supplier name | Guide price | Last updated |
| --- | --- | --- |
If you are one of the suppliers listed here, and don't know how to update your product information please contact our Data Services team to find out how to update your information.
Manufacturer's contact
Manufacturer's product description
Full function phone that allows 2 way speech through the small remote panic button pendant. In an emergency the user presses the SOS button on their pendant or on the main phone unit, and the main unit will call the 5 pre-prgorammed contacts (family/friends) in sequence until the call is answered. When the call is answered, 2 way conversation is possible through the SOS panic button or hands free through the main telephone unit. This goes straight to the contact and cuts out any need for monthly subscription contracts to call centres. One pendant and recharging cradle is supplied with the phone. Fully charged, standby power on the pendant is 80 hours with a talk time of up to 6 hours. Additonal pendants are available as well as a wrist strap if the user would prefer to not wear the pendant around thier neck. Range between SOS pendant and main unit is up to 50 metres. The main telephone unit has big buttons for ease of use and a powerful hands free speakerphone. The ringer volume is adjustable and can show an optional flashing light for SOS or incoming calls. For added peace of mind, family and friends can be given a unique PIN to be able to remotely monitor the area around the main telephone unit and SOS button. If there is no answer to their call, they can call out to the user through the speakerphone or panic button pendant to check that they are ok.