Item locators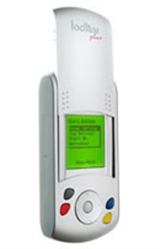 This section includes fobs which flash or beep in response to a whistle or a button being pressed on a control board. These hand held locators can be used to find small items that may be misplaced such as keys. Small tags are attached to the items you wish to protect or locate. If you lose the item/s then pressing a button on the locator causes the lost item to bleep, thus guiding you towards it.
Some of the items in this section are available to borrow for free for two weeks in certain areas of the United Kingdom.

If you would like to have a look at our library content, please click this link to be taken through to the Library site.