Natural Gas Detector
Manufactured by Tunstall Healthcare (UK) Ltd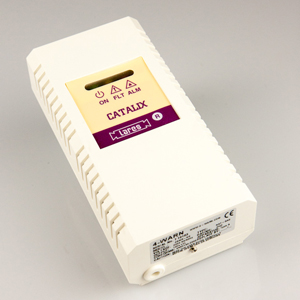 DLF's summary
Electrically powered gas alarm. Can be linked to a monitoring centre and a Gas Shut Off Valve to automatically cut the gas supply off, if a leak is detected. An LPG (liquid petroleum gas) detector is also available.
Product models
There are 2 models of this product available. Suppliers may not supply them all:
natural gas GS831
LPG GS837
Features
unit with power indicator light, warning light for gas detection and audible warning emitted simultaneously with warning light
Where can I buy this product?
The UK national suppliers that sell this item are listed below.
Show room
Home demo
Online shop
X
Supplier details
Head office
Whitley Lodge
Whitley Bridge
Yorkshire
DN14 0HR
UK

Supplier details last checked:
06 November 2017,

Next check due:
06-11-2019
Tunstall Healthcare (UK) Ltd
's name for this product is
Natural Gas Detector
Their code/s for this product and any variants are:
- natural gas GS831
- LPG GS837
POA
Checked by DLF on 06 November 2017
National suppliers (Explain)
The following suppliers have not updated their product details for over two years. We list the last price they entered but provide less information on them. These records will be removed after three years. They can update their records using our self-service system.
| Supplier name | Guide price | Last updated |
| --- | --- | --- |
If you are one of the suppliers listed here, and don't know how to update your product information please contact our Data Services team to find out how to update your information.
Manufacturer's contact
Tunstall Healthcare (UK) Ltd
Whitley Lodge
Whitley Bridge
Yorkshire
DN14 0HR
UK
01977 660479
marketing@tunstall.com
http://uk.tunstall.com
Manufacturer's product description
The mains powered Natural Gas and LPG Detector provides an alert to the danger of gas leaks.