Doro Secure 480 Personal Alarm Watch
Manufactured by Doro UK Ltd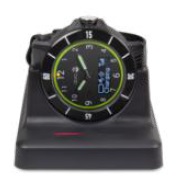 DLF's summary
Analog watch phone with GPS tracking and assistance button.
Features
can place calls to alarm centre or contacts
TeleCare service providers can check in with wearer, be alerted of location and communicate over speakerphone
address book
voice and email notifications
Product dimensions
Where can I buy this product?
The UK national suppliers that sell this item are listed below.

X
Supplier details
Head office
First Floor, Bridge House
Chiltern Hill
Chalfont St Peter
Buckinghamshire
SL9 9UE
United Kingdom

Supplier details last checked:
23 January 2017,

Next check due:
23-01-2019
Doro Care Ltd
's name for this product is
Doro Secure 480 Personal Alarm Watch
POA
Checked by DLF on 23 January 2017
National suppliers (Explain)
The following suppliers have not updated their product details for over two years. We list the last price they entered but provide less information on them. These records will be removed after three years. They can update their records using our self-service system.
| Supplier name | Guide price | Last updated |
| --- | --- | --- |
If you are one of the suppliers listed here, and don't know how to update your product information please contact our Data Services team to find out how to update your information.
Manufacturer's contact
Doro UK Ltd
First Floor, Bridge House
Chiltern Hill
Chalfont St Peter
Buckinghamshire
SL9 9UE
UK
01753 883080
acsales@doro-uk.com
https://www.doro.co.uk