Lifeline Unicom Unit
Manufactured by Advanced Electronics Ltd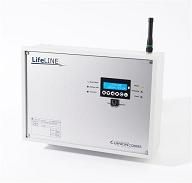 DLF's summary
Alarm unit which plugs into single fire interface panel. Informs user by fixed or pre-specified message to receiver unit, for lifeline pager; alerts by sound or vibration. For larger business areas. Installed to individual requirements.
Where can I buy this product?
The UK national suppliers that sell this item are listed below.
X
Supplier details
Head office
Unit 34
Moorland Way
Nelson Park Cramlington
Northumberland
NA23 1WE
UK

Supplier details last checked:
29 January 2018,

Next check due:
29-01-2020
Advanced Electronics Ltd
's name for this product is
Lifeline Unicom Unit
POA
Checked by DLF on 29 January 2018
National suppliers (Explain)
The following suppliers have not updated their product details for over two years. We list the last price they entered but provide less information on them. These records will be removed after three years. They can update their records using our self-service system.
| Supplier name | Guide price | Last updated |
| --- | --- | --- |
If you are one of the suppliers listed here, and don't know how to update your product information please contact our Data Services team to find out how to update your information.
Manufacturer's contact
Advanced Electronics Ltd
Unit 34
Moorland Way
Nelson Park
Cramlington
Northumberland
NA23 1WE
UK
01670 707111
sales@advancedco.com
https://uk.advancedco.com