Caretech Heat Detector
Manufactured by CareTech UK Sales Ltd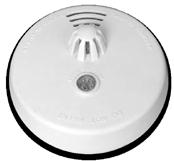 DLF's summary
Temperature detector which monitors for extreme heat conditions.
Features
when the temperature rises above 58 degrees Celsius an alarm is raised to the control centre and a local audible alarm is sounded
Product dimensions
Transmitter
Range
100metres
Power source
Mains power supply required
No
Where can I buy this product?
The UK national suppliers that sell this item are listed below.

X
Supplier details
Head office
First Floor, Bridge House
Chiltern Hill
Chalfont St Peter
Buckinghamshire
SL9 9UE
United Kingdom

Supplier details last checked:
24 January 2017,

Next check due:
24-01-2019
Doro Care Ltd
's name for this product is
Heat Detector
Their product code is:
300140
POA
Checked by DLF on 24 January 2017
National suppliers (Explain)
The following suppliers have not updated their product details for over two years. We list the last price they entered but provide less information on them. These records will be removed after three years. They can update their records using our self-service system.
| Supplier name | Guide price | Last updated |
| --- | --- | --- |
If you are one of the suppliers listed here, and don't know how to update your product information please contact our Data Services team to find out how to update your information.
Manufacturer's contact
This manufacturer may no longer be trading
CareTech UK Sales Ltd
Winchester House
259-269 Old Marylebone Road
London
NW1 5RA
UK
020 7616 4091
sarah.reeves@caretech.se
http://www.caretech.se/en-home.html
Manufacturer's product description
The CareTech heat detector will trigger a call from the carephone and provide a local audible alarm when the temperature rises to 58oC. A heat detector is suitable for those locations where a false alarm is likely to occur with a standard ionization and optical smoke detector due to steam, cooking flame or particles (e.g. burning toast).Tested to comply with all relevant standards.