Era Michime Wireless Door Intercom Dect Phone
Manufactured by Response Electronics Ltd
Priced from
£85
(Inc. VAT)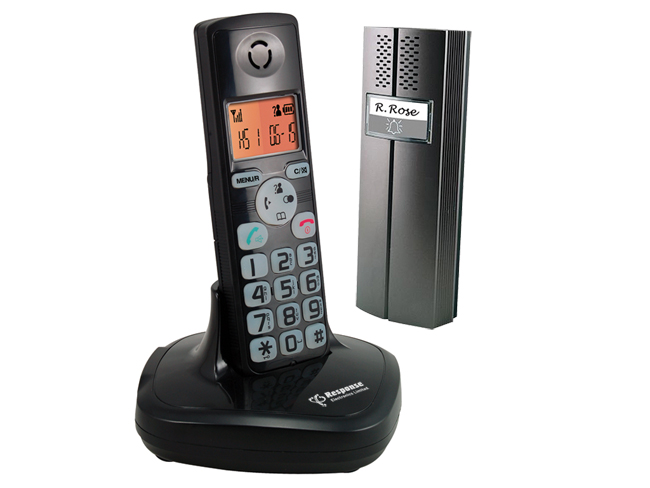 DLF's summary
Wireless dual function two-way intercom and cordless telephone system. Designed so the user can answer the door or the telephone from the same cordless digital telephone handset.
Features
outdoor intercom station/doorbell with customisable nameplates
base station and handset with backlit LCD display
different ring tones identify doorbell/intercom activation or telephone call
9 ring tones setting for phone book entries, 6 ring volume levels
handsfree speakerphone
mute option
clock and conversation timer display
50 number phone book and caller ID, redial with up to 10 entries
PIN protection keypad lock option
phone menu available in 13 languages
system can be extended up to 4 handsets per outdoor doorbell/station
Product dimensions
Transmitter
Range
300metres
Features
Connection wired or wireless
Wireless
Where can I buy this product?
The UK national suppliers that sell this item are listed below.
Mail order
Online shop
X
Supplier details
Head office
a division of ERA Home Security Ltd
Roman House
Lysons Avenue Ash Vale
Surrey
GU12 5QF
UK

Supplier details last checked:
21 November 2017,

Next check due:
21-11-2019
Response Electronics Ltd
's name for this product is
Era Michime Wireless Door Intercom Dect Phone
Their product code is:
CL3622B
From

£85

Inc. VAT
Checked by DLF on 21 November 2017
National suppliers (Explain)
The following suppliers have not updated their product details for over two years. We list the last price they entered but provide less information on them. These records will be removed after three years. They can update their records using our self-service system.
| Supplier name | Guide price | Last updated |
| --- | --- | --- |
| | £132 | 08 June 2016 |
If you are one of the suppliers listed here, and don't know how to update your product information please contact our Data Services team to find out how to update your information.
Manufacturer's contact
Response Electronics Ltd
a division of ERA Home Security Ltd
Roman House
Lysons Avenue
Ash Vale
Surrey
GU12 5QF
UK
0345 257 1000
support@responseelectronics.com
http://www.responseelectronics.com
Manufacturer's product description
This wireless dual function Door Intercom Telephone and Doorbell System allows you to have a 2 way conversation with the visitor at your door. When your doorbell rings you can safely and conveniently answer it from within your home using the DECT telephone handset. With no wiring required between the Outdoor Station (intercom/doorbell) and the Indoor Base Station, this DECT telephone intercom system is quick and easy to install and set-up. The CL3622B is suitable for both residential and commercial use and has a long operating range of up to 300 metres between the telephone handset and the outdoor station (intercom/doorbell). FEATURES: • Simple to set-up and operate • Long operating range - up to 300 metres • Answer the door or the telephone from the same cordless digital telephone handset • Outdoor station includes customisable nameplates • 2 way communication between DECT phone and intercom • 3 way conference call • Different ringtones identify doorbell/intercom activation or telephone call • 9 VIP ring tones setting for phonebook entries • 10 ring tones with 6 ring volume levels • Full handsfree speakerphone and mute option • Conversation time display • 50 number phone book and caller ID • Redial book with up to 10 entries • Clock (set time, alarm clock with snooze option) • LCD backlit Display • PIN protection - Keypad lock • Menu available in 13 languages • 1.88GHz DECT technology with GAP • System can be extended by up to 4 handsets per outdoor station • Tone/Pulse dialing mode selectable • Auto answer on/off selectable • Intercom/doorbell (outdoor station)IP56 rated IDEAL FOR: Conveniently and safely identifying the visitor at your door before allowing entry. WHAT'S IN THE BOX: • Indoor Base Station • Indoor DECT Handset • Outdoor Station (Intercom/Doorbell) • Telephone Cable and Double Adapter • Mains Adapter for Indoor Base Station • 2 x C Cell and 2 x AAA rechargeable batteries • Fixing Kit • User Manual Note: image for illustration purposes, refer to product details for exact dimensions