Era Michime Wireless Door Intercom System
Manufactured by Response Electronics Ltd
Priced from
£70
(Inc. VAT)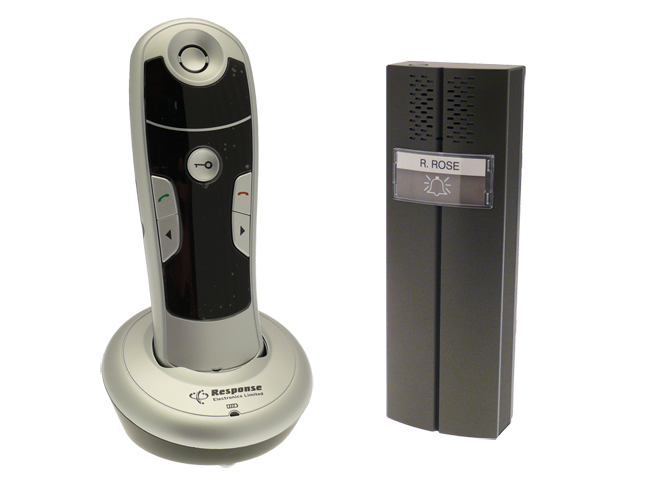 DLF's summary
Wireless door entry intercom system.
Features
Allows 2-way conversation with visitor
No wiring required between the outdoor station and the indoor handset
Operating range of up to 150 metres between the handset and the outside station
5 ring tones with 5 ring volume levels
Visual ringer, power indicator and in-use indicator
Charger base with charge indicator
Carrying clip
Outdoor station has two customisable nameplates
Options
Single button door release
Outdoor station can be mains powered
Watch a video
Product dimensions
Transmitter
Range
150metres
Features
Connection wired or wireless
Wireless
Where can I buy this product?
The UK national suppliers that sell this item are listed below.
Online shop
X
Supplier details
Head office
a division of ERA Home Security Ltd
Valiant Way
Wolverhampton
West Midlands
WV9 5GB
UK

Supplier details last checked:
23 July 2018,

Next check due:
22-07-2020
Response Electronics Ltd
's name for this product is
ERA miChime Wireless Door Intercom System
Their product code is:
CL6011B
From

£70

Inc. VAT
Checked by DLF on 23 July 2018
National suppliers (Explain)
The following suppliers have not updated their product details for over two years. We list the last price they entered but provide less information on them. These records will be removed after three years. They can update their records using our self-service system.
| Supplier name | Guide price | Last updated |
| --- | --- | --- |
If you are one of the suppliers listed here, and don't know how to update your product information please contact our Data Services team to find out how to update your information.
Manufacturer's contact
Response Electronics Ltd
a division of ERA Home Security Ltd
Valiant Way
Wolverhampton
West Midlands
WV9 5GB
UK
0345 257 2500
info@responseelectronics.com
http://www.responseelectronics.com
Manufacturer's product description
The ERA miChime wireless Door entry Intercom Doorbell System allows you to have a 2 way conversation with the visitor at your door. When your doorbell rings you can safely and conveniently answer it from within your home using the handset. With no wiring required between the Outdoor Station (intercom/doorbell) and the Indoor handset, this intercom system is quick and easy to install and set-up. The CL6011B is suitable for both residential and coercial use and has a long operating range of up to 150 metres between the handset and the outside station (intercom/doorbell).

Features:
Ideal for conveniently and safely identifying the visitor at your door before allowing entry. Simple to set-up and operate with a long operating range - up to 150 metres between outdoor station and handset. The outdoor station includes customisable nameplates so you personalise to the property. The 2 way counication between Handset and intercom means you can speak and hear any visitor to the property easily with the Wireless Audio Intercom and Digital technology. You have the option of 5 ringtones with 5 ring volume levels and a visual ringer, power indicator and in use indicator light. Tries.

Available separately in a single button door release module that allows you to open the door from the comfort of your handset (requires CL3660UM). The Outdoor station can be mains powered if required (requires PSU CLOSPSU) and the Intercom/doorbell (outdoor station) is IP56 rated.

In the Box:
Indoor Intercom Handset, Indoor Charging Dock, Outdoor Station (Intercom/Doorbell), Mains Adaptor for Indoor Charging Dock, 2 x C Cell and 2 x AAA rechargeable batteries Fixing Kit and User Manual.

Please note: image for illustration purposes only, refer to product details for exact dimensions. Product Packaging may vary due to redesign - miChime is a an ERA brand from Response Electronics