Floor Pressure Mat
Manufactured by Frequency Precision Ltd
Priced from
£73
(Exc. VAT)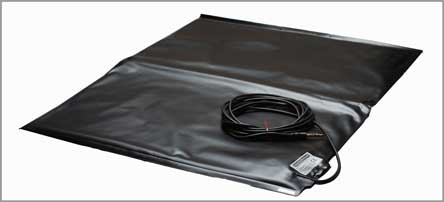 DLF's summary
Pressure mat to alert carer that user is wandering or has fallen out of bed. Comprises PVC mat, for connection to existing call system or radio pager.
Product models
There are 2 models of this product available. Suppliers may not supply them all:
Plugmatched PMF
Pager-Linked APMF
Product dimensions
Transmitter
Range
100metres
Dimensions
Length
56cm
Width
72cm
Height
.5cm
Where can I buy this product?
The UK national suppliers that sell this item are listed below.
Mail order
Online shop
X
Supplier details
Head office
21 Clipper House
Trinity Buoy Wharf
London
E14 0FH
United Kingdom

Supplier details last checked:
14 February 2017,

Next check due:
14-02-2019
Frequency Precision Ltd
's name for this product is
Floor Pressure Mat
Their code/s for this product and any variants are:
- Plugmatched PMF
- Pager-Linked APMF
From

£73
- £207

Exc. VAT
Checked by DLF on 14 February 2017
National suppliers (Explain)
The following suppliers have not updated their product details for over two years. We list the last price they entered but provide less information on them. These records will be removed after three years. They can update their records using our self-service system.
| Supplier name | Guide price | Last updated |
| --- | --- | --- |
If you are one of the suppliers listed here, and don't know how to update your product information please contact our Data Services team to find out how to update your information.
Manufacturer's contact
Manufacturer's product description
Know when someone leaves a bed or moves through a doorway. The most popular and inexpensive sensor we supply. The most cost effective approach to alerting to night time wanderers is the Floor pressure mat. When placed in a door or hallway the mat detects foot pressure. The mat can also be used for falls prevention when placed next to a bed .The mat may be radio-linked to a pager receiver or supplied to plug in along side the existing call system press button. When plugged into a call system the mat will work in the same way as the existing pressbutton and will indicate the room number. The mats are also available with the pager systems. Where more than one room is to be monitored with the pager system we suggest the Setup 3 pager call system which will indicate which mat has been activated. The mat is 560X720mm and can be supplied with any length of lead (3m as standard) which is bonded to the inside of the mat for strength. Contact us for more information. When supplied with a pager system the mat is attached to the nessessary transmitter. Setup1 - For use with an existing call system (setup1) we will need to receive an example of the call lead used with your call system to ensure compatibility of the sensor's adapter with your call system. This need only be done on your first order and your lead will be sent straight back to you. Multiple mats can be connected together to create a larger area in special cases. Contact us for more information.