Trolleys, karts, scooter boards and sledges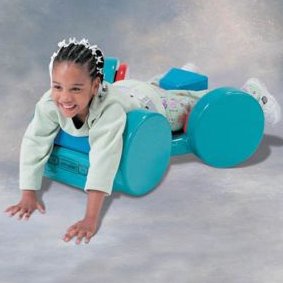 The trolleys, karts and scooter boards listed in this section may enable your child to participate in floor level play, activity or therapy. They can facilitate crawling and enable hand propulsion along the floor.
Children may be positioned on these boards either sitting with their legs extended, or lying on their stomachs (also known as prone lying). If used whilst lying, they should support the whole of your child's body (and sometimes the legs), leaving their hands free to allow your child to propel themselves. Some scooter boards can be used by your child on their back if the board is long enough to support their head and hips. They can then be propelled by your child pushing with their feet.
They include features such as hand grips, waist and chest straps and positioning supports. Pommels can be fitted to some scooter boards to keep your child's legs from pushing together.