Pruning and cutting equipment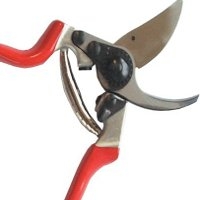 This section includes secateurs and fruit picking devices for collection, cutting soft foliage or stems or 'dead' heading. Features may include: colour contrast, 'cut and hold' type secateurs which grip the cut stem, design for left hand use, single-handed safety catch, 'soft feel' or telescopic handles, or a wrist strap.
Secateurs can have two types of cutting actions, anvil or bypass. The anvil ones have a sharpened blade on both sides which closes onto a lower flat metal or plastic block. They are more suitable for cutting woody stems rather than soft foliage, up to a designated diameter. They require a shorter duration of effort to use but because of the flat block, can get in the way in tight corners. Bypass secateurs, are similar in action to household scissors and require more sustained action to manage, but may be the best, all-round option. Anvil ones may be more suitable if you are cutting mainly wooden stems.